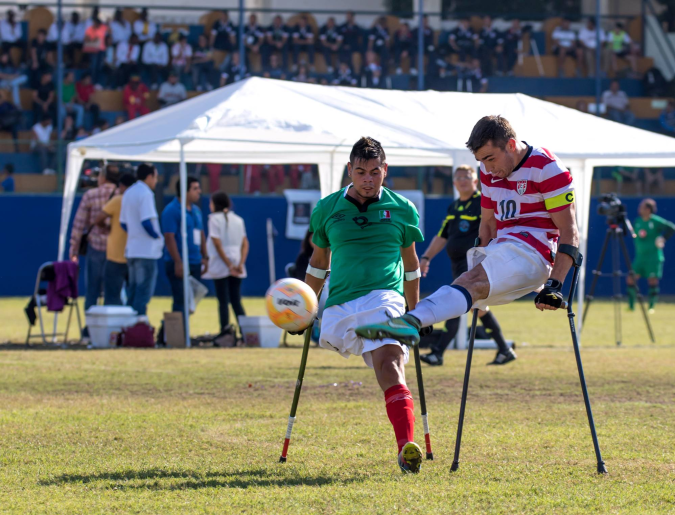 Colorado College student Nicolai (Nico) Calabria '18 was named co-captain of the U.S. National Amputee Soccer team during the recent Amputee World Cup in Culiacan, Mexico. Calabria, 20, is the youngest ever to hold this position, sharing co-captain honors with five-time World Cup veteran Ignacio Medrano of Los Angeles.

Additionally, Calabria became the all-time highest cumulative goal scorer for the U.S. team with 7 international goals.

Twenty-one teams seeded into six groups competed in this year's Amputee World Cup, and for the first time in the team's 28-year history, the U.S. team advanced out of its group. The team entered the 2014 Amputee World Cup unranked and emerged the 12th-place finisher. Russia won the tournament defeating Angola 2-1 in the finals.

During the tournament, the U.S. team played Japan, Iran (forfeit by Iran), Turkey, Poland, Germany, Argentina, and Mexico.

New this year was a power shot competition, an event designed to identify the amputee with the fastest shot as clocked by a radar gun. Teams entered two players who each took three penalty kicks. Calabria was one of the players selected for the American team and placed third overall with a speed of 57mph. First and second place went to El Salvador and Argentina respectively, both with kicks of 58mph. Calabria had the highest average speed over three kicks with 56.3mph, compared to 55mph for the others.

Calabria, born without a right hip and leg, is an education major from Concord, Mass. He took Block 4 off to compete in the tournament, which is held every other year.