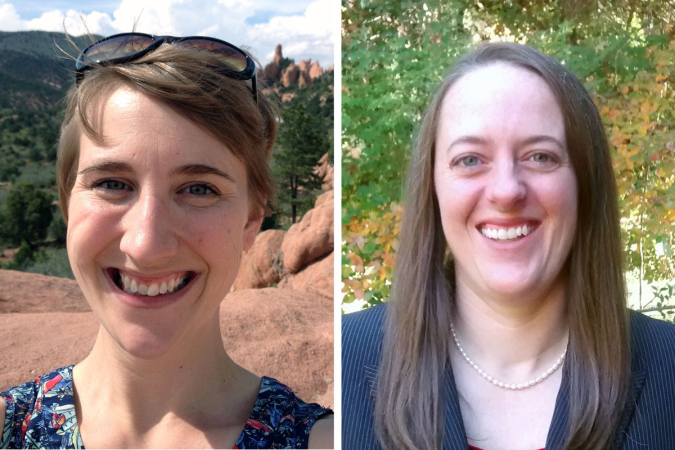 The two newest members of the Economics and Business Department have both published in highly regarded journals since arriving at Colorado College in August. Assistant Professor Jessica Hoel (on the economics side of the department) has an article in the October issue of the Journal of Economic Behavior and Organization and Assistant Professor Christina Rader (on the business side of the department) has published in Organizational Behavior and Human Decision Processes.
Hoel's article is titled "Heterogeneous households: A within-subject test of asymmetric information between spouses in Kenya." Using experimental laboratory games, Hoel measured how much money a respondent was willing to give up for him or herself to earn more money for his or her spouse. In one decision, respondents made their choice in secret, while a second choice was revealed to the respondent's spouse. Half of subjects made the same choice in both the secret and public games, while a third gave less in secret when their spouse couldn't observe their behavior. Hoel then showed that the two types of spouses identified in the games also had different information about income in real life, suggesting that laboratory games can be used to identify household types useful in the interpretation of field data. In an on-going extension of this work, Hoel currently is studying households engaged in semi-nomadic dairy farming in Northern Senegal, using games to test the hypothesis that more cooperative households are more efficient in dairy production.

Before joining CC, Hoel spent two years as an associate research fellow at the International Food Policy Research Institute in Washington, D.C. Her recent work has taken her to Ethiopia, Senegal, and Tanzania, and she lived in rural western Kenya for more than a year. Hoel's research uses experimental laboratory games to study household decision-making and the behavioral effects of poverty. She received her Ph.D. in economics from the University of Michigan and a B.A. in math and economics from Reed College. Her website is jessicabhoel.com

Rader's article is titled "Pushing away from representative advice: Advice taking, anchoring, and adjustment." In it, she and co-authors Jack Soll and Rick Larrick of Duke University explored whether the timing of advice matters. They found that when advice was provided before the advisee formed their own opinion on the topic, advisees adjusted away from the advice. On the other hand, if advisees formed their own opinion before receiving advice, they were more likely to adjust toward the advice. The findings are unique because they studied typical advice - advice that was close to what most people did on their own - whereas most other researchers studied advice that was very different from what most people did on their own. Based on the results, the researchers recommend people facing a decision seek advice after they've come to their own initial conclusion.

Rader's research focuses on human judgment and decision making, especially as it relates to giving and taking advice. She has been a lecturer in business at the University of North Carolina at Chapel Hill, and has 10 years business experience in economics consulting, marketing, and tourism, including serving as vice president of marketing for a luxury tour operator. Rader graduated summa cum laude with a B.A. in economics from Carleton College and earned a Ph.D. in business administration at Duke University.