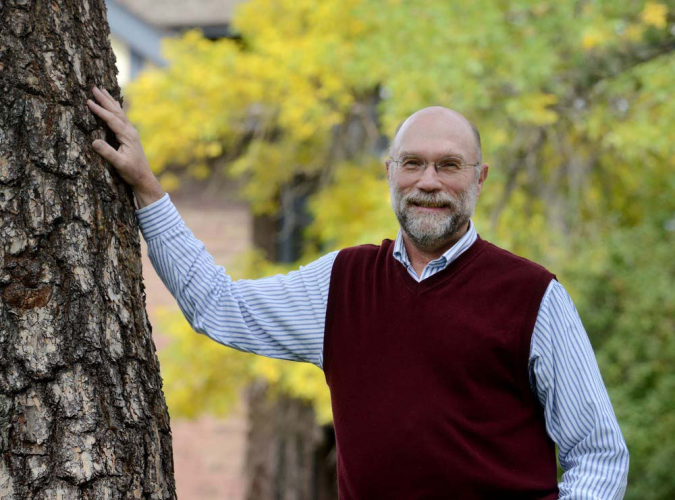 Colorado College Chemistry Professor Nate Bower will receive the 2014 Colorado American Chemical Society Section Award on Wednesday, Oct. 15, in Gaylord Hall, 902 N. Cascade Ave., for his outstanding contributions to chemistry. The award honors Bower's lifetime achievements and acknowledges his research in numerous areas, including the development of analytical methods for fields such as archaeology, art conservation, environmental chemistry, forensic science, and numismatics.
The evening will include a presentation by Bower titled "Isotopic Fingerprinting of Human Remains Using Stable and Radiogenic Isotopes: A Critical Comparison of Their Relative Efficacy." Bower's research group has been doing chemical analyses of the forgotten individuals in the Colorado Mental Health Institute cemetery in Pueblo, Colo., after they were unearthed by a backhoe in 1992. Bower will discuss this research at the awards ceremony, noting that similar isotopic analyses have been used to follow the migrations of animals and to illuminate the life history of individuals such King Richard III.
Successful application of isotopic analyses to the forensic identification of modern human remains has been more difficult, in part due to the globalization of human food sources as well as the much greater mobility of populations today. "In this study we developed time-dependent isotope maps for lead, comparing them to isotope maps for carbon, oxygen, and strontium. These maps, or 'isoscapes,' are used to determine the birthplaces of individuals who were buried in the forgotten19th-century mental asylum cemetery in Pueblo, offering the possibility, when coupled with osteological and historical analyses, that some of these individuals may be matched to specific patient records," Bower said.
Bower, who has been teaching chemistry at Colorado College since 1977, earned his B.A. from the College of Wooster and Ph.D. from Oregon State.