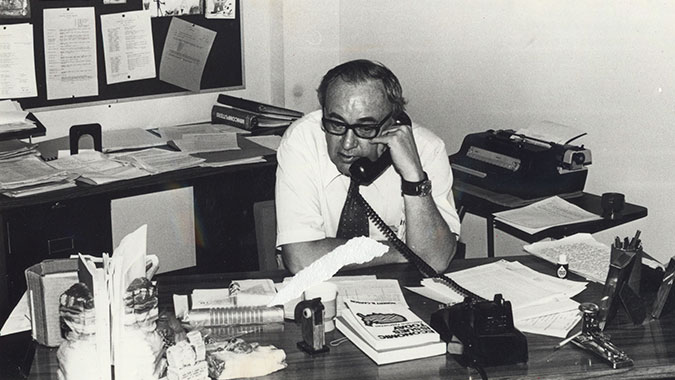 James Alan "Al" Johnson, a well-regarded economics professor and debate coach who brought order to the chaos of registration in the early days of the Block Plan, will be honored Saturday, April 6, in a memorial service at 10:30 a.m. in Shove Chapel.
U.S. Rep. Diana DeGette '79, who was on one of the many college debate teams Johnson coached, will give the eulogy.
Johnson is remembered by former students and colleagues for his attentiveness and care and his vast service to the college. He died Dec. 28 at age 82 after a brief illness.
"He listened to us, every day, as equals," said Amy Weible Nitta '99, a debater and Boettcher scholar who went on to get a master's degree in speech language pathology. "I feel like he really played a big role in who I am as a person, because he listened."
DeGette noted that he took a personal interest in all his students and encouraged them to do their best. He believed in the ideal of the "scholar-debater," as someone who debated ideas and policy, and always had evidence to back up positions.
"I use the critical thinking skills he taught us every day," she said. "That's why we all love him so much."
Johnson took CC teams all over the country for debates.
"Al had a national reputation," said Dean of Students Mike Edmonds, who met Johnson when Edmonds was a freshman debater at the University of Mississippi. "Colorado College always had really good people, and Al ran a top-notch program."
Edmonds went on to get a doctorate, and after he came to CC, he taught a popular speech course with Johnson.
Johnson was a co-founder of the Cross Examination Debate Association, set up as an alternative to the method by which students debated one topic all year, emphasizing research and, in his view, discouraging liberal arts students who wanted to try something new. Eventually, he co-founded the National Parliamentary Debate Association, in which students are given topics only 20 minutes before the debate. "He basically created a new way to do debate," said Chad Nitta '97, who met his future wife, Amy Weible, at CC. "His philosophy was that he wanted everyone to try." Nitta practices law in Denver.
"As a debate coach, he was absolutely phenomenal," said Barbara Keener '67, a past president of the Alumni Association Board. Keener is a member of the graduate faculty at Capella University's School of Education, in Gainesville, Fla.
Keener remembers Johnson as a mentor who created a family around the debate team. In 2004, after a CC debate reunion, Keener, Ray Petros '72 and Chuck Meyer '73 helped set up a fund in Johnson's honor to support debate and forensics at Colorado College.
Johnson was born in Swink, Colo., on July 6, 1930, to Col. William W. and Alma Esther Johnson. He attended the University of Colorado at Boulder and transferred to Colorado College, then was called up to serve in the U.S. Navy Reserves. He saw combat during the Korean War, then returned to Colorado College in 1954. The GI Bill paid his $450-a-semester tuition, he told interviewer Judy Finley in a 1995 oral history on file in Tutt Library's Special Collections. He retired in 1990.
Johnson majored in economics, graduating in 1956. He was hired to teach courses when a professor left for another job.
Eventually, he took a leave and earned a master's degree in economics at Stanford University, where he also did work on a doctorate. He was a member of the faculty and taught business courses until he was asked to take over the Registrar's Office following the abrupt departure of the registrar after a disastrous registration in the gym in Cossitt Hall during Block 2 of the first year under the Block Plan in 1970.
"It was a nightmare," Johnson said in his oral history. Each department had a table, and students were running from table to table, desperate to get into any course they could. "It was a total disaster, and many, many, many, many students, first year students, left without having any course even for Block III," he told the interviewer.
Johnson had adamantly opposed the Block Plan, then threw his support to it when he saw that faculty was slightly more inclined to adopt it than oppose it.
The magnitude of the change under the Block Plan quickly became apparent. "We really did not know exactly what courses were offered each block," he said. "We weren't sure which students were in courses, and which weren't, or what courses they were in."
He and colleagues began sorting out the chaos, borrowing some time at a computer off campus and finding people to fill in information on punch cards.
Finally, in the early 70s, Johnson worked with computer pioneer David Packard, whose parents had graduated from Colorado College, to get a steep discount on Colorado College's first computer, which was dubbed "Smedley."
The clunky computer and its spare parts filled a large room in the basement of Armstrong Hall, Johnson said in his interview, noting that it had less power than a 1990s pocket calculator. With the help of two young, self-taught computer experts who were women, Smedley began to sort out the class rosters, allowing for administrators and faculty to determine the proper number of courses, classrooms and faculty needed each year.
"As a product of the old American transportation system he understood seats in CC courses as like seats on airline flights," said Classics Professor Owen Cramer. "The model was that you had a robust database management system . . . that could stand tens of thousands of course-changes during each annual cycle, and you made it user-friendly."
It was Johnson who figured out the point system to bid on courses at the college, looking for fairness and a way to avoid the massive rush at registration tables. Good advising, Johnson noted, was key to the success of the point system, which began in 1972. That notion dovetailed with his idea that it was important to spend significant time with students, especially first-year students, going over their papers, something that was much harder to do in a traditional system.
Among the many awards Johnson received is the Gresham Riley award in 2003, named after the 10th president of Colorado College. The award recognizes faculty or staff "who have made a significant difference to the Colorado College community through outstanding service, commitment and accomplishment."
Johnson was preceded in death by his wife, Vivian Rees Johnson; daughter Deborah Lu Johnson '72; his parents; brothers Thomas Lee Johnson and Gordon Richard Johnson; his sister, Shirley Johnson Rhoads, and a son, Dana Johnson, who passed away March 28. He is survived by his brother, William Ray Johnson '59; son David Alan Johnson '88 and daughter-in-law Kate Johnson '88; grandsons Clay and Reese Johnson; granddaughters Briana Manion Miller '04 and Emma Burton; and great-granddaughter Devari Miller.
The family suggests that in lieu of flowers, donations may be made to the James "Al" Johnson 1956 Endowed Debate Fund in care of Colorado College Development, P.O. Box 1117, Colorado Springs, CO 80901.