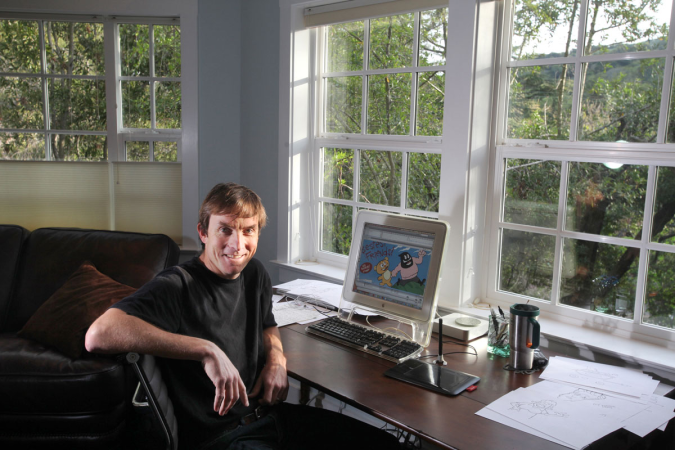 Mark Fiore '91, who won the 2010 Pulitzer Prize in Editorial Cartooning , has received the 2016 Herblock Prize. The prize honors "distinguished examples of editorial cartooning that exemplify the courageous, independent standard set by Herblock."
Fiore, who graduated from Colorado College with a degree in political science, is a pioneer in the field of animated cartoons, with The Wall Street Journal calling him "the undisputed guru of the form." He has been recognized as part of CC's Faces of Innovation, a project honoring alumni, students, and faculty; liberal-arts thinkers who embody the innovative and creative CC spirit and make connections across the arts, humanities, social sciences, and physical sciences. Says Fiore, "the liberal arts background trained me and gave me the tools to be able to take the twists and turns along the road."
While a student at CC, Fiore traveled to Washington, D.C. to meet the legendary editorial cartoonist Herb Block, renowned for a career that spanned nine decades and tackled the divisive issues of the 20th century. Fiore returned to Washington this summer, 25 years after his initial journey, to accept the award named for his idol.

After graduation, Fiore embarked on the "twists and turns along the road," beginning with drawing political cartoons for newspapers. His work has appeared in publications ranging from the Washington Post to the Los Angeles Times. In the late 1990s, he began experimenting with animating political cartoons and, after a short stint at the San Jose Mercury News as their staff cartoonist, devoted all his energies to animation.
One of the judges for this year's Herblock Prize says that Fiore quickly rose to the top of the list, despite starting as a dark horse. "Animated editorial cartooning is young compared to traditional pen and ink drawings in the newspaper, but Fiore is among the first masters of the field," says judge Mike Rhode. "His cartoons covered a range of topics from deeply obscure but important mining law to the constant gun violence warping American society. It was a pleasure to be able to select him for this ground-breaking expansion of the Herblock award."
Another judge notes that Fiore demonstrates "a consistently strong handle on his subject matter with an ability to convey complex topics with great humor, rage and irony. His work honors the legacy of Herblock and expands the form."
Fiore also was the recipient of the Robert F. Kennedy Journalism Award in 2004 and has twice received an Online Journalism Award for commentary from the Online News Association (2002, 2008). He has received two awards for his work in new media from the National Cartoonists Society (2001, 2002), and in 2006 received The James Madison Freedom of Information Award from The Society of Professional Journalists.