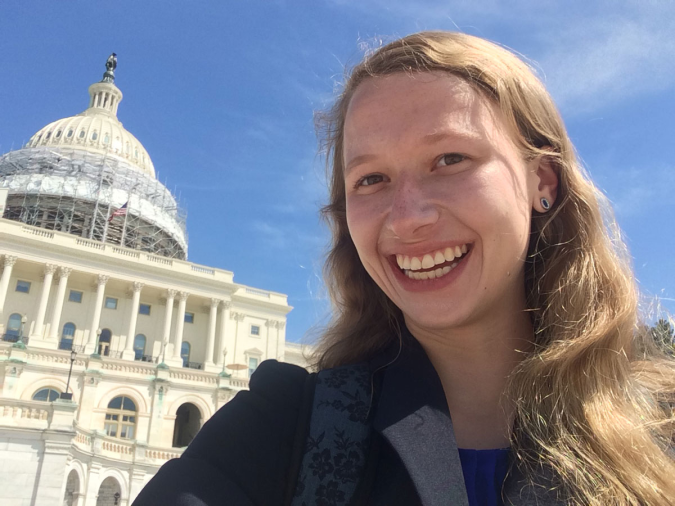 Madeline Walden '18 recently presented her research poster, "Synthesis of Drugs to Treat Human African Sleeping Sickness," at the highly selective "Posters on the Hill" forum in Washington, D.C.
Walden, a chemistry major from Larkspur, Colorado, worked with Colorado College Assistant Professor of Chemistry and Biochemistry Amy Dounay '96 last summer and during Half Block to design and synthesize new compounds they hope will increase understanding of what chemical components need to present on a drug to kill the parasite that causes Human African Trypanosomiasis (HAT, or African sleeping sickness).
"I have been interested in chemistry since high school - maybe earlier - but I hadn't narrowed down a field or topic before I started research with Amy," says Walden. "I love the idea of working on purely philanthropic and potentially life-saving chemistry."

To date, Walden and several other CC students have worked with Dounay to make more than 40 new compounds with closely related structures. Research collaborators at a parasitology laboratory in Spain test the compounds for efficacy against the parasite that causes African sleeping sickness.

"Right now, there are some treatments available, but they are difficult to transport, have many side effects, are toxic, and/or require extensive hospital stays - which is a huge issue since most HAT cases occur in remote regions in Africa with few medical facilities," Walden says. "We are trying to create a pill form of a new drug that can easily be distributed and administered, that can kill both strains of the disease and both stages - the first stage, when the parasite in the blood, and the second stage, when the parasite has entered the brain."
The 20th annual poster event, sponsored by the Council on Undergraduate Research (CUR), also allowed Walden to meet with Colorado Sen. Cory Gardner and Sen. Michael Bennet. The poster session was open to all members of congress and their staffers.

Dounay, who has received grants from the Boettcher Foundation to help fund her research, says "Maddie has a great passion for science and research and has completed a huge amount of research with me. She clearly was a perfect fit to represent Colorado at 'Posters on the Hill,' where she met with her U.S. Congressional representatives and other undergraduate researchers from across the country. Bright and energetic students like Maddie are excellent ambassadors for undergraduate research, conveying to Congress the importance of continued federal research funding support."
Walden plans to pursue spectroscopy, physical chemistry, and molecular biophysics work this summer at the University of Texas, Austin. "There is just too much science to do to pick one field at this point, but after my experience with Amy, I am definitely interested in pharmaceutical chemistry and especially the study of other neglected diseases," she says, referring to the World Health Organization's calling HAT a "neglected tropical disease."

"I'm trying to keep an open mind and explore as many different applications of chemistry as I can," says Walden.