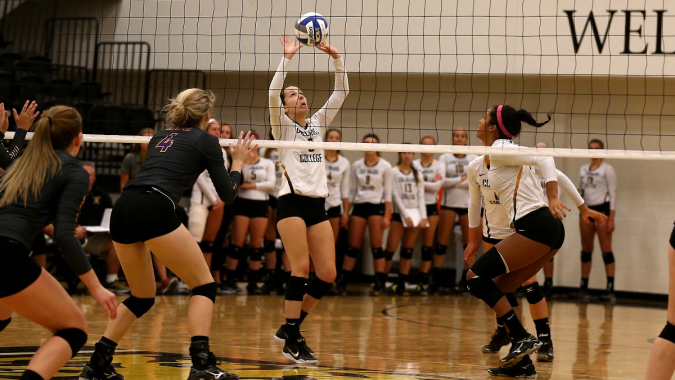 Lizzy Counts '20, a setter on the Colorado College volleyball team, was named the Sports Imports/AVCA Division III National Player of the Week for leading the sixth-ranked Tigers to four victories in last week's Pikes Peak Challenge, including a pair of wins over nationally-ranked opponents.

Counts, from Oakland, California, was voted the tournament MVP by the opposing coaches. She posted a .395 hitting percentage and averaged 9.94 assists, 1.29 kills, 2.05 digs and 0.52 blocks per set.

"Lizzy has really taken over as the setter in our 5-1 system," said head coach Rick Swan. "She's extremely creative, spreads the ball to all of our hitters, and is an effective weapon when she's in the front row."

In Friday's tournament opener against Luther College, Counts dished out a season-high 49 assists and put down six kills on 14 attempts in CC's 25-20, 25-23, 18-25, 25-23 triumph. On the defensive side of the net, she added 10 digs and had a hand in a season-high four blocked shots. Read more here.