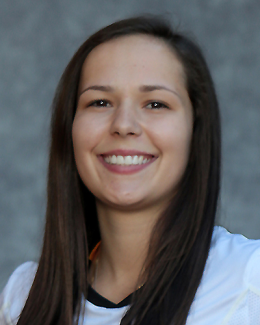 Lizzy Counts '20, who led the Colorado College volleyball team to victories over No. 4 Trinity University and No. 5 Southwestern University last weekend, was selected the Sports Imports/AVCA Division III National Player of the Week.
It marks the second time Counts has received the award during her first two collegiate seasons and the fourth overall award for the CC volleyball program.
On Oct. 2, Counts also was named the Southern Collegiate Athletic Conference Offensive Player of the Week for the third time this year.
"We're excited for Lizzy," says head coach Rick Swan. "She does a fantastic job running the offense and has a knack for making the right choice at the right time. Lizzy is very competitive and brings great leadership to the court."
During Saturday's three-set win against Trinity, she hit a season-high .800 with four kills on five attacks, dished out 33 assists, and recorded nine digs.
In Sunday's come-from-behind win over Southwestern, the Tigers overcame a 10-5 deficit in the fifth set when Counts set seven consecutive kills to give CC a 12-10 lead. She finished with single-match highs of 14 digs and four aces against Southwestern, and matched her previous best of seven kills.
During the last match of the weekend at Texas Lutheran University, she dished out a season-high 52 assists against the Bulldogs on their home court.
For the week, Counts hit .722 with 13 kills on 18 attacks without an error.
Her national honor is the 10th for an SCAC student-athlete; however, she is the first in conference history to receive the award twice.