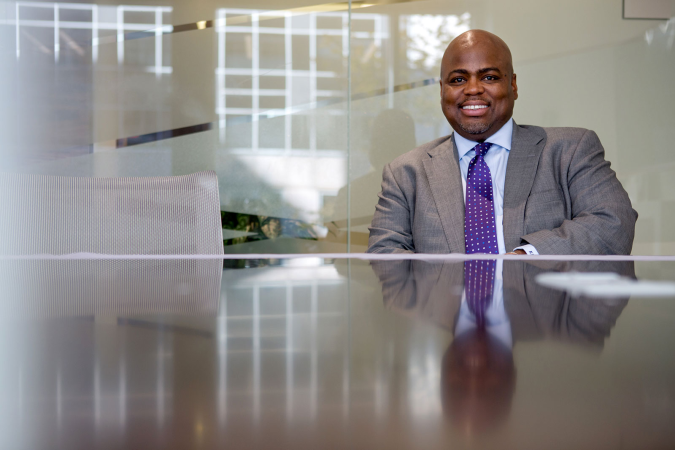 When donors invest in scholarships it's an investment in the future for the individual recipients and for the college itself. By providing greater access to a CC education and expanding the CC experience to a wide range of people from all socio-economic backgrounds, the college as a whole is enriched. As part of the $435 million "Building on Originality" fundraising campaign announced in October 2017, Colorado College aims to raise $100 million for student financial aid, including $90 million for endowed scholarship support and $10 million for expendable funds for scholarships. When raised, these funds will enable the college to provide 180 new scholarships.

Scholarships have long been responsible for opening the doors to a CC education. They have provided students with once-in-a-lifetime transformative experiences, eased the economic burden on their families, and lifted them from poverty.

Keep On Going On - Ed Benton '50
In 1946, attending college was not in Ed Benton's sights.

"At 17 months I became an orphan, and I was handed over to my father's mother. She was 55 years of age, in poor health, illiterate, and she had no money," says Benton. "When rent went up from $5 per month to $8 per month, my grandmother couldn't afford it, so starting in my junior year of high school, we lived in a single-room shed with a concrete floor. No insulation. No indoor plumbing. Just a cold-water tap."


He'd been working as a "parts chaser" through high school at Camp Carson (later Fort Carson), taking German and Italian mechanics - some of the 9,000 who were held there as POWs during World War II - to junkyards on the site to acquire parts for military vehicles needed overseas. When the war ended, Benton went to the state employment office to respond to an advertisement from the Gazette Telegraph for a job as a mechanic for Yellow Cab.

Benton recalls the clerk asking a variety of questions. "Did you go to high school? How were your grades? Do you have a transcript?"
The clerk gave Benton money out of his own pocket to obtain his high school transcript from Colorado Springs High School. After he looked it over, he asked more questions.

"Do you have any money? Does anyone in your family have any money? Did anybody in your family go to college?"

After Benton responded no repeatedly, the clerk told him he didn't want to be a Yellow Cab mechanic and arranged for him to meet Henry Mathias, dean of admission at Colorado College.

Mathias offered Benton the Lowell Elementary School Scholarship and funds to pay for admission with the agreement that he'd work summers to repay part of the funding. But when Benton returned to the shed, his grandmother was none too pleased to learn he hadn't secured the job.

"College meant nothing to her," he says.

Fortunately, it meant something to him. Eager to make the most of his admittance to CC, he took course after course in his major. His faculty advisor, Douglas Mertz, encouraged the young political science major to broaden his studies. Benton signed up for Greek literature and Roman and Greek history classes with a young professor who had recently come to Colorado College to restart the classics program. That professor, Stephanie Jakimowitz, was later to become his wife. Mertz also urged Benton to apply for law school.

"He told me to apply for Harvard, Yale, Columbia, Chicago, and Stanford law schools. I applied to all of them, and I was accepted. The reason I went to Yale was because they gave me a full scholarship."

Finally, after six years, he was able to move out of the shed. After law school, he met with his wife's friend, William S. Jackson, who was chair of CC's Board of Trustees and Chief Justice of the Colorado Supreme Court. Jackson called Harold Roberts, Class of 1908, a senior partner in a Denver law firm, and suggested he consider Benton for a position. Thanks to that introduction, in 1953, Benton became an attorney with Holme Roberts and Owen, where he worked throughout his career. The firm merged with Bryan Cave LLP in 2011 and currently operates as Bryan Cave.

"The courses that I took at Colorado College developed a capacity to analyze, to think, and to draw judgments. That broad exposure to the liberal arts was very helpful when I got to Yale Law School. It's been useful in my many years in the practice of law," Benton says.


After his wife passed away in 2010, he established the Stephanie and Ed Benton Endowed Scholarship with $500,000 to honor her memory. The impact of their generosity was multiplied through a match by the Walton Family Foundation during a five-year challenge in which the foundation pledged to match contributions up to $10 million for the establishment of scholarships for high-need or first-generation college students.

When he spoke at the 2012 Scholarship Appreciation Dinner, Benton, the 1950 CC graduate who had benefitted so much from elders' advice when he was a young man, proffered some advice of his own.

"To the donors here, keep on going on with what you're doing. To the scholarship beneficiaries, wherever you are, whatever you're doing, however much money you have, mark some of it as a contribution to the scholarship program at CC to carry out your realization that you wouldn't be here if it hadn't been for the donors and their predecessors," he said.

Benton received an Honorary Doctor of Literature degree from CC in 1987.

Gateway to An Education and An Adventure - Alana Aamodt '18
A physics major and studio art minor at Colorado College, Alana Aamodt is from Minnesota. She came to CC for a good education and for an exciting adventure. She's found both.

In her first physics class, she and her classmates played hockey every Thursday, something she describes as "one of those things you can only do at Colorado College." A short list of the "nine million things" she's done at CC includes an array of academic, intellectual, physical, creative, and collaborative ventures.

She founded and co-chairs CC's club for Women in STEM (science, technology, engineering, and math) to provide a supportive space for women, who aren't always well represented in science and mathematics courses. She says her motivation to create this club came from a feeling of self-doubt compounded by isolation, a sentiment she realized many other women in students in STEM shared.

"It was a crash course in running a club," Aamodt says. "The first year was exploratory. Then, I focused on my leadership style."

She enjoys backpacking, rock climbing, and canoeing. After high school, she enrolled in the National Outdoor Leadership School. Part of the reason she chose CC was to explore the Rocky Mountains. She's continued her outdoor pursuits at CC as a leader with the Outdoor Recreation Committee and a wilderness first responder.

"I got to lead first-year students on a FOOT trip to Mount Sneffels, a fourteener near Telluride," she says. (FOOT stands for First-year Outdoor Orientation Trips.)

And, the adventures continued. Thanks to funding from the Ritt Kellogg Memorial Fund, Aamodt was able to join three other CC students on a 16-day, 400-mile canoeing trip in the Yukon last summer.

"The rivers move so fast. The sun didn't set until 11:45 p.m. or midnight each day," she recalls.

Her academic pursuits have included plenty of exciting experiences as well. One field trip took her to a mosque designed by an Egyptian architect in the middle of New Mexico. Her architecture and design course gave her the opportunity to work on a model tiny home. And her class presentation? She gave it around a wood-burning stove in her professor's mountain home he had designed himself.

Additionally, she's played several intramural sports, including broomball, softball, water polo, and hockey. She's a research assistant for a CC professor researching retention of women in physics and a writing intern for the college's Office of Communications.

In Summer 2017, she was a member of a Quad Innovation Partnership team working on solutions for homelessness in Colorado Springs. The partnership is an innovation incubator that includes CC, Pikes Peak Community College, University of Colorado Colorado Springs, and the U.S. Air Force Academy.

"The Quad program allowed me to form connections in the Colorado Springs community. I learned about a lot of local nonprofits, and I met people who weren't like me. I realized there is diversity here; it's just spread out," she says.

As a Venture Grant recipient, Aamodt studied the engineering design process and design/build science of toys. She plans to enter her toy design in the Big Idea competition next spring.

Aamodt has received the Patricia Buster Scholarship in Honor of Statie Erikson, Horace H. Work Endowed Scholarship for Music, Crown-Goodman Presidential Scholarship, and the Walton Family Foundation Scholarship. Additionally, she's received aid from the Ritt Kellogg Endowed Memorial Fund and Keller Family Venture Grant Program for Student Research. She's forthright about the role that financial aid and scholarships play in her ability to study and CC and immerse herself in the CC experience.

"A single scholarship was my gateway to the seemingly infinite opportunities CC has to offer. Without constant, looming financial stress, I was able to explore my interests, just for the sake of trying and learning. With each urge to try something new, there was always an avenue to do it: another scholarship or grant, which helped pave my way in whichever direction I chose. One scholarship was all it took to open up more, so long as I was willing to work for them."

After graduation, Aamodt is planning to pursue a degree in engineering or design.

Committing to Socioeconomic Diversity - Kyle Samuel '92
When Kyle Samuel '92 was considering colleges, his list included Colorado College, the University of Texas, the University of Colorado, and Dartmouth College. He chose CC in part because the T. Roosevelt Collins Memorial Scholarship helped to ease the burden of the cost of college for his family. Although he still had to work throughout his college years, the scholarship made CC accessible and his post-college debt economically viable.

Mentors had told him that the academic portion of college was only a small percentage of the experience. He was advised that the people he would meet and the networks he would gain would enrich his years at college. So, he plunged into life at CC. He was a member of the Kappa Sigma fraternity, the Colorado College football team, and the Black Student Union (BSU).

"As part of BSU, Kappa Sigma, and the football team I learned lessons about myself, gained a broader perspective on opportunity, and built lifelong friendships. Being a part of the BSU was a way to both help students who shared my ethnic background navigate through what could be a challenging environment and also a way to help educate the school about the importance of diversity and how to help diverse students cope," Samuel says.

Now, he's a managing director at Wells Fargo Insurance Services in Washington, D.C. He says his liberal arts education and the Block Plan were equally or more important than the specific information he learned in his economics major.

"The degree in and of itself gave me a broad perspective on the economy, but my CC education really taught me how to think critically and communicate more effectively. I'm a much better problem solver thanks to CC. The liberal arts environment gave me skills that would have made me very successful in whatever profession I would have chosen," Samuel says. "And, as opposed to just simply studying to take a test, the Block Plan was more focused learning where I was able to fully immerse myself in subjects."

Samuel is a member of CC's Alumni Association Board, where he serves as chair of the Governance Committee and is president-elect. He's given countless hours of his time to CC through his volunteer commitments, and he is open to meeting with Colorado College students and alumni who visit the nation's capital. His motivation is to give back.

"I feel like I have been successful on the shoulders of giants. It's the people who have come before me, opportunities that have been presented to me, and the scholarship that allowed me to remain and thrive at Colorado College. It's a debt of gratitude that I have, and I think that my engagement will ensure that someone else will be given the same opportunity that I've been given," he says.

He appreciates the deep commitment of faculty, staff, and administrators in making CC a successful environment, and he's encouraged that many alumni make a personal financial commitment to support scholarships.

The importance of giving back is in ensuring that there's a commitment to socioeconomic diversity at Colorado College. Because the school is better off when the student population is more socioeconomically diverse," Samuel says.


Scholarship 101
In 2015, William S. Smith '74 established an endowed scholarship fund through his
 estate plans, committing up to $10 million and challenging alumni and friends of CC to support scholarships of their own. When a donor creates a new scholarship endowment or enhances an existing scholarship endowment through estate plans or an outright gift of $100,000 or more, Smith directs $100,000 toward CC scholarships. The result of the Scholarship Challenge 101, when successfully completed, will be at least $20 million for additional scholarship support and 101 new or enhanced scholarships. For more information about Scholarship Challenge 101, please contact Stephany Marreel at stephany.marreel@coloradocollege.edu or (719) 389-6231.