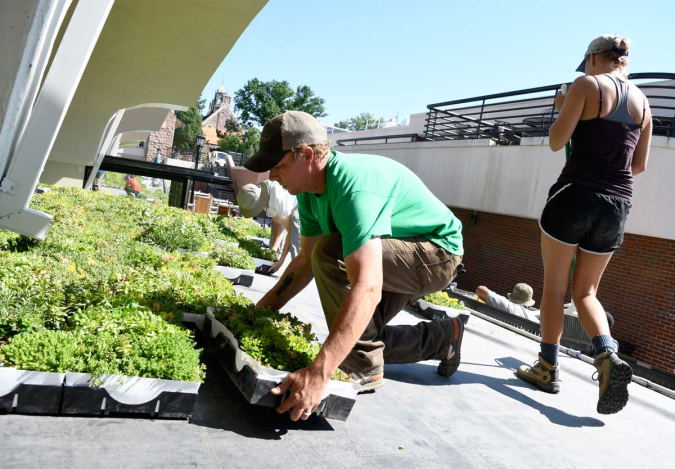 This summer Colorado College is implementing sustainability measures from top to bottom - literally.
CC students and facilities services recently installed a 2,650-square-foot live green roof on the Honnen Ice Arena. Those 2,650 formerly barren square feet have been transformed into a lush carpet of 12,800 succulent sedums.
Green roofs reduce storm water runoff by 65 to 90 percent in the summer and 25 to 40 percent during winter months. The drought-tolerant sedums provide a low-maintenance green space that helps reduce heating and cooling costs, extends roof life by as much as 40-50 years, lowers interior sound levels by as much as 40 decibels, and provides a natural air filtration system, with one square foot of green roof foliage able to filter seven ounces of dust and smog per year.

Graham Coffman '17, a studio art major, pre-engineering candidate, and a member of CC's Design Review Board, says there is a lot of student investment in the project. "Having students work on this gives them a sense of pride and investment, and they're a lot more apt to take care of it," he says. Approximately 20 students worked on the garden, located on the kick-out roof on the east side of the ice arena.
Josh Ortiz, CC landscape and grounds supervisor, estimates about 70 percent of the work was done by CC grounds staff and student employees. "Without the students we wouldn't have been able to get this done," he says.
"It's a cool project," says biology major Whit Walker '17. "It's very visible, and it serves a purpose. It's aesthetically pleasing; it's not just a roof."
Emma Kearney '17, a studio art major who uses the corridor by the ice arena to get to classes in Packard Hall, notes that the view from the Rastall deck has been much improved. "It was unused space and it's been transformed," she says. "It's been fun to work on this. It's very visually rewarding."

The live green roof at Honnen is the first one on the Colorado College campus. Because of the weight of the soil and plants, very few existing buildings are structurally able to support such a roof, although two are scheduled for installation on new construction: one at the renovated Tutt Library and another at the new East Campus Housing Project. Charissa Wagner of Intermountain Roofscape Supply, which grew the plants specifically for Colorado Springs' climate, said the Honnen Ice Arena is first live green roof the company has installed in Colorado Springs.
Earlier this summer, CC launched the Tutt Library renovation, drilling 80 wells, each 400 feet deep and about five and a half inches wide, for a geothermal heating and cooling system. The new system will render the building a "net-zero" facility, meaning that on an annual basis the library will be carbon-free and produce enough electricity to operate itself. The college's East Campus Housing Project also will employ a geothermal heating and cooling system. The live green roof and geothermal systems support CC commitment to sustainability, part of CC's strategic plan.