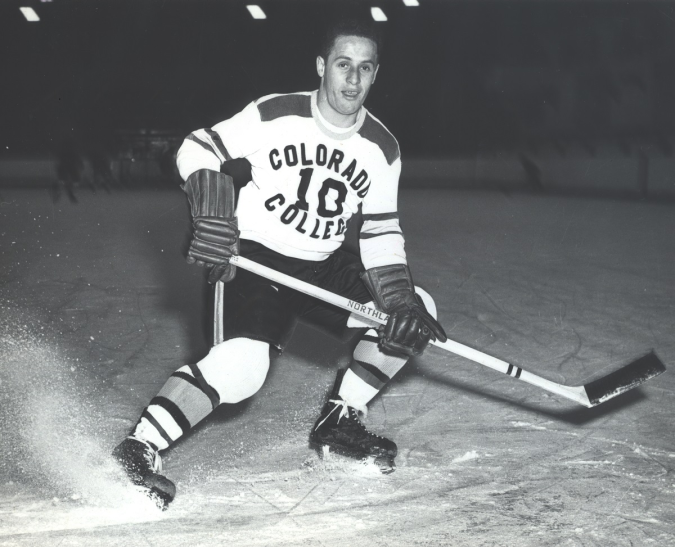 Andre "Andy" Gambucci '53, one of Colorado College's most outstanding student-athletes, passed away on Saturday, Sept. 24. He was 87.

Gambucci, born and raised in Eveleth, Minnesota, competed in hockey, football, and baseball at Colorado College and was a premier athlete in all three sports.

On the ice, in addition to helping the Tigers reach the NCAA playoffs in each of his first three seasons and claim their first NCAA championship in 1950, he skated on the 1952 U.S. Olympic Team that took silver in Oslo, Norway. Gambucci finished his collegiate career with 91 points (62 goals, 29 assists).

As a running back on the football team, he broke the legendary Dutch Clark's school record with 16 touchdowns and finished fourth nationally in scoring in 1952. He was named the Rocky Mountain Conference MVP and a unanimous all-conference selection that fall.
Following his graduation, Gambucci turned down an opportunity to try out for the NHL's Boston Bruins and instead went to Italy to play and coach. Upon returning to Colorado Springs, he launched a 22-year career as an on-ice official in the Western Collegiate Hockey Association.
Away from the rink, Gambucci built a successful insurance business, eventually serving as senior vice president and director of marketing for Acordia of Colorado from 1982 until 1995. After retiring, he continued as a consultant for Acordia Mountain West Inc. into the mid-2000s.
He has been inducted twice into the CC Athletics Hall of Fame - individually in 2004, and again in 1998, as a member of the 1950 national champion hockey squad. He also is enshrined in the Colorado and Colorado Springs Sports Halls of Fame.