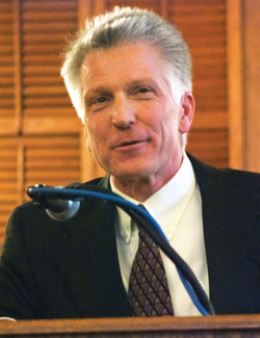 Colorado College Economics and Business Professor Larry Stimpert, who most recently has been serving as acting director of the Colorado College Career Center, has been appointed Vice President for Academic Affairs at DePauw University in Greencastle, Ind. He will begin his responsibilities at DePauw on July 1.

"Larry is a talented and dedicated teacher who is much admired by students and alumni," said President Jill Tiefenthaler. "He's also an energetic and effective leader, and his contributions to CC have been far-reaching. He will be missed, but we are thrilled about this exciting opportunity for him."

"Larry has made so many significant contributions to Colorado College - not only to the Economics and Business Department, but also in his many years of service, most recently as interim director of the Career Center. Colleagues, students and alumni will miss his enthusiasm and dedication in the classroom, as well as his vision and strong leadership skills," said Dean of the College Sandra Wong. "I am fully confident that he will succeed in his new position. I wish him all the best."

Wayne E. Glausser, the Jane Cooling Brady Professor of English who chaired the search committee at DePauw University, noted that "At the start of the search, we drew up a profile of the ideal candidate we hoped to attract. This person would be a distinguished teacher-scholar in a liberal arts setting, with a record of success in significant administrative roles, who had the creativity, energy, and judgment to lead DePauw into its next academic era. Larry Stimpert fits this description perfectly."

Stimpert received his B.A. in economics, magna cum laude, from Illinois Wesleyan University, earned an MBA in finance from Columbia University, and a Ph.D. in business administration at the University of Illinois at Urbana-Champaign.

At Colorado College, he served as the chair of the Economics and Business Department. He also has served on and chaired the college's Faculty Executive and Social Sciences Executive Committees, and recently led a large delegation of faculty and staff from CC on a series of benchmarking visits to the college's liberal arts peers.

Stimpert has served as a distinguished Visiting Professor in the Management Department of the U.S. Air Force Academy. Prior to his tenure at CC, Stimpert was a faculty member at the Eli Broad College of Business at Michigan State University. At Colorado College, he has held the John D. and Catherine T. MacArthur Professorship and the John L. Knight Chair for the Study of Free Enterprise. He has twice received the Sidney G. Winter Award for his contributions to economics and business education.

Stimpert's publications have appeared in the Academy of Management Journal, the Academy of Management Review, the Journal of Management Studies, the Strategic Management Journal, and other leading management journals. He also serves on the editorial review board of the Journal of Management, and he has previously served as a co-editor of the Journal of Management Inquiry.