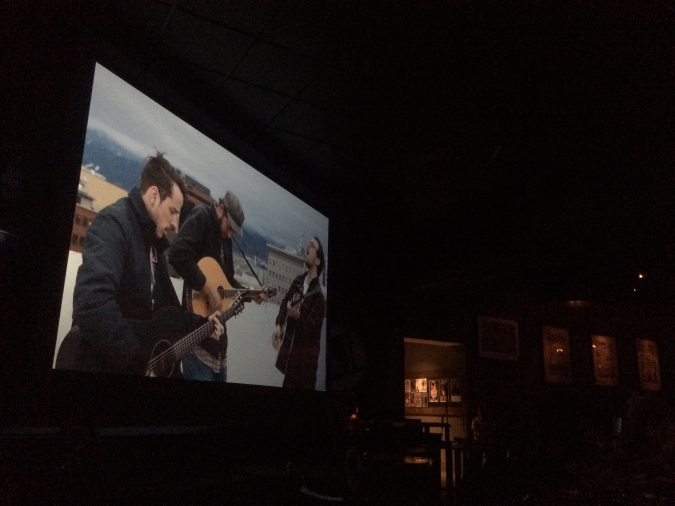 "I really want people to be able to see the power of music and of art, and the way it works in so many different people's lives," says Kendall Rock '15 of her film "God's in the Garage." She's sharing her work with the world, on the big screen at the 2016 Big Sky Documentary Film Festival in Montana Feb. 19-28.
The documentary short explores the interactions and conflicts between faith and music. Featuring Seattle artists Allen Stone, Zach Fleury, Noah Gundersen, and Galen Disston (Pickwick), the film also follows Colorado musician Brian Wight as he chooses between his artistry and the prospects of a comfortable lifestyle guaranteed by a church job.
"I was raised in the church in Seattle, but had a lot of issues with it as I got older and went to college. I started paying attention to the type of music I was listening to and realized that a lot of the artists I liked had a similar Christian background," Rock says of her inspiration for the film. "Struggles with faith was a theme in their music, and I wanted to know more about how they processed that struggle through their art. For a lot of these musicians, music was their religion or their higher power, and I was really interested in learning about that."
"God's in the Garage" was Rock's thesis film as a film and new media studies major at CC. After debuting the film on campus last May, Rock was contacted by Doug Hawes-Davis, who was on campus as a visiting professor. He invited her to show the film at the Big Sky Festival in Missoula, Montana. Since then, she's had to keep the film under wraps until the screening at Big Sky in February.
While Rock says it's scary to share such a personal and sensitive project with the masses, she's thrilled to be included in such a major festival. "I'll get to go to see films and attend the filmmaker parties. I'll be mingling with real filmmakers; I'm excited. Then I can finally put it online, and move on."
Rock has several other projects already in the works, including a film she shot over the summer while working with a conservation group in Alaska. That will be released soon on Rock's blog. And, she has plenty of ideas to pursue. "I want to do more with music, the best part of this film was working with other creative people and talking with them about the way they process their lives through their art. At the same time I was making my art, going through my own process, so I want to do more of that."