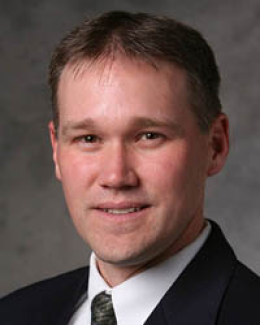 Ken Ralph, director of athletics at Rensselaer Polytechnic Institute since July 2002, has been named new director of athletics at Colorado College, both institutions announced today.
Ralph will oversee all of CC's Division I and Division III men's and women's intercollegiate teams, as well as its club and intramural programs.
"Ken's commitment to the primacy of our academic mission, his experience as a student athlete, coach and athletic director, and his passion for his work have prepared him to be a real leader for the diverse athletic programs at Colorado College," said Richard F. Celeste, Colorado College president.
"At Rensselaer he has led a program quite similar to CC's, fielding two NCAA Division I teams yet playing as a Division III school. I have worked with Ken when the question of our Division I programs was in the balance, and he was a strong and thoughtful advocate for the positive outcome we achieved," Celeste said. "I am pleased to welcome him to the Colorado College senior management team."
Effective Aug. 23, Ralph fills the position vacated by Julie Soriero, who left Colorado College this summer to become department head and director of athletics, physical education and recreation at Massachusetts Institute of Technology after eight years at CC, three of them as director of athletics.
He will oversee staffing, programming, budgeting and marketing of CC's athletics programs, which include Division I men's ice hockey and women's soccer, as well as Division III cross country, football, men's soccer, volleyball, basketball, swimming and diving, lacrosse, softball, tennis, track and field, and women's water polo.
Ralph takes over a department that perennially sends teams to the NCAA playoffs and produces All-America and Academic All-America athletes. Several of the school's 18 Division III teams made their debut as members of the Southern Collegiate Athletic Conference during the 2006-07 academic year. A number of others - including basketball, football and volleyball - will begin competing in the SCAC in 2007-08.
The Division I hockey team has earned national post-season bids in 10 of the last 13 seasons, reaching the Frozen Four three times since 1996. The Division I women's soccer team returned to the NCAA playoffs last fall in its first campaign as an affiliate member of Conference USA. In Division III, women's volleyball has earned nine consecutive NCAA bids and women's lacrosse seven altogether since its founding in 1995. The lacrosse team reached the national semifinals in 2005.
"I am thrilled to be joining the Colorado College community," Ralph said. "This position offers an excellent opportunity for me to continue to grow both personally and professionally. President Celeste has outlined exciting plans for the continued excellence of the college and its athletic programs.
"I look forward to working with the students, faculty, staff, and administration at Colorado College as we chart an ambitious course for the future of athletics at CC," Ralph said. "I am excited to be a Tiger."
Ralph is not new to Colorado Springs; in 1996-1997 he worked as assistant swimming coach and physical education instructor at the U.S. Air Force Academy. During his tenure there, the women's team finished 10-1, and Ralph and others in the athletic department earned the Air Force Award for Organizational Excellence.
At Rensselaer, Ralph oversaw 23 varsity teams, including Division I men's and women's ice hockey; 24 intramural sports, and recreational activities. He headed a staff of 40, assisted in fundraising, and oversaw NCAA and conference-rule compliance for both Division I and Division III programs; marketing, promotions and media relations; worked closely with alumni relations, directed student-athlete academic enrichment programs and ensured that athletic facilities were well maintained.
Both Ralph and Soriero were involved in January 2004 when the NCAA voted overwhelmingly in favor of amended legislation that permits CC and seven other Division III institutions to continue to grant financial aid to student-athletes who compete in Division I programs.
The outcome preserved men's ice hockey and women's soccer at the Division I level at CC and men's and women's Division I ice hockey at Rensselaer Polytechnic Institute, as well as at other historic sports programs at Clarkson University, Hartwick College, Johns Hopkins University, Rutgers-Newark, St. Lawrence University, and SUNY-Oneonta.
Scott Owens, CC's Division I ice hockey coach, said Ralph is an excellent choice for the athletic director role.
"I think Ken will be a great fit at Colorado College. His experience at a school that has both Division I and Division III similar to us is extremely beneficial," Owens said. "Obviously his hockey background will allow him to hit the ground running, with our season nearly upon us."
Anne Goodman James, director of aquatics and head coach of men's and women's swimming and diving at Colorado College, said Ralph's leadership skills and perspective will be assets at CC.
"Ken Ralph definitely is a dynamic leader," Goodman James said. "I think he gets the Division I-Division III blend that we have here at Colorado College. He seems to have a clear understanding of what it takes to compete in Division I, and at the same time is able to relate to things we deal with at the Division III level. The thing I like most about Ken is that he thinks big. I think he's going to do some big things at Colorado College."
Prior to his years at Rensselaer Polytechnic Institute, Ralph was the senior assistant director, head swimming coach and head water polo coach at Connecticut College; director of aquatics, head swimming coach and physical education instructor at University of Evansville; assistant swimming coach and physical education instructor at the U.S. Air Force Academy; director of aquatics and head swimming coach at Kutztown University; director of aquatics and head swimming coach at Georgetown University; assistant swimming coach at the University of Missouri; and assistant swimming coach at the University of Alaska-Anchorage. Ralph has served on committees for ECAC Hockey, USA Hockey Division I, and Liberty League Awards.
As an athlete, in 1989 and 1990 he earned five NCAA Division II All-American awards as a swimmer, was UAA Swimmer of the Year, and was a USS Senior National Qualifier. In 2005, Ralph was inducted into the University of Alaska-Anchorage Athletic Hall of Fame.
He earned a bachelor's degree in political science from University of Alaska-Anchorage in 1991.