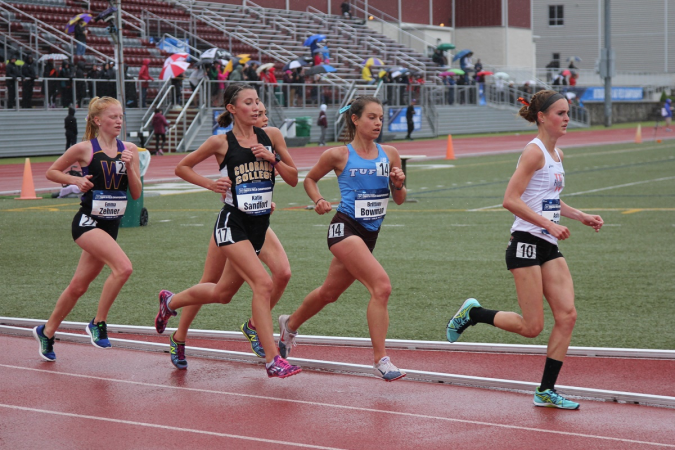 Colorado College's Katie Sandfort '17 ran the race of her life Thursday morning to finish in third place in the 10,000-meters at the NCAA Division III Outdoor Track and Field Championships in Geneva, Ohio.
Sandfort, who graduated May 22 with a bachelor's degree in English, posted the second-best finish in school history at the Division III Championships behind Heather O'Brien '99, who took the national title in the decathlon in 1998. Sandfort also broke her own school record Thursday with a time of 35:04.69. Her previous record was 35:25.40, set on May 11 at the Dr. Keeler Invitational Track and Field Meet in Naperville, Illinois.
"What a great way for Katie to wrap up a phenomenal career," head coach Ted Castaneda says. "She ran a really smart race today. I have to give all the credit in the world to our distance coach, Alex Nichols, who helped her prepare for this moment. I could not be prouder of both of them."
Sandfort is the first female in Colorado College history to earn All-America status in cross country and track in the same academic year. She finished 26th at the national cross country meet last fall. Annabel Arnott '96 is the only other female to earn All-America honors in both sports, but she accomplished it in different years.

"This was a great way to end my college career," Sandfort says. "The race went perfectly. I made a move with two miles to go, which was our plan going into the race. I'm so glad it paid off and I was able to make it into the top three."
The Coppell, Texas, product is the fourth female in program history to earn All-America honors in outdoor track, along with O'Brien, Arnott, and Sascha Scott '97.