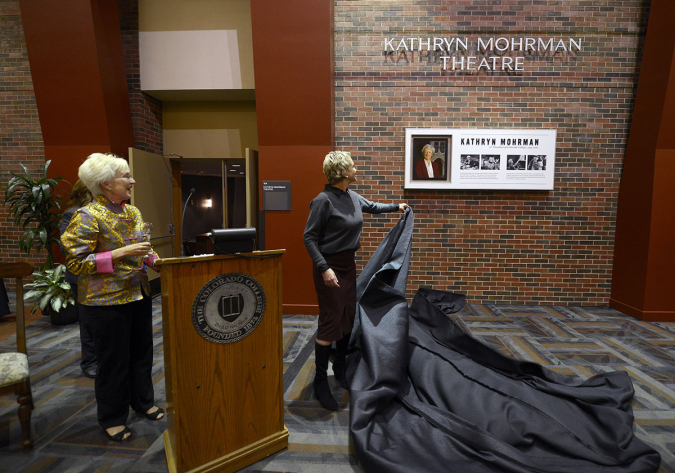 More than 125 members of the Colorado College community gathered for the dedication of the Kathryn Mohrman Theatre in Armstrong Hall, 14 E. Cache La Poudre St., on Friday, Nov. 6. Mohrman, the 11th president of Colorado College and the first woman to hold that position, served from 1993 to 2002.
In her inaugural address, Mohrman set the tone for her tenure, reinforcing the college's liberal arts mission as a "community of learning and discovery" and "an institution committed to understanding the human condition in all its richness and complexity."
During her time at CC, the college raised nearly $100 million, adopted the First-Year Experience Program, issued its first strategic planning report, added Asian Studies and Environmental Studies, implemented the Breaking Bread program, opened the Western Ridge apartments and the Glass House, and worked to increase gender equity and diversity.

Following her departure from Colorado College at the conclusion of the 2001-02 academic year, Mohrman accepted a Fulbright Fellowship at the Chinese University of Hong Kong, followed by significant positions at Johns Hopkins and Arizona State universities. Announcing her departure from Colorado College, Mohrman noted that she considers herself "a Tiger for life." More information on Kathryn Mohrman.
Formerly known as Armstrong Theatre, the venue is the site of numerous campus and community events, including lectures, readings, films, drama, and dance performances. Colorado College hosts more than 350 events each year that are free and open to the community, many of which are held at this venue.