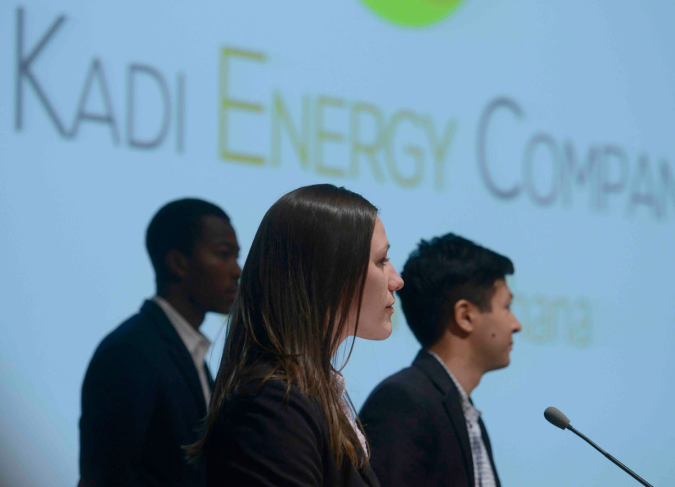 Three teams shared the $50,000 purse in Colorado College's The Big Idea pitch competition, with Kadi Energy Company, led by Paul-Miki Akpablie '16 with Samantha Barlow '13 and Usaama Alnaji '14, taking first place and $25,000 in seed money. Second place and $15,000 went to iDro, with Fredrik Lindseth '15 and Jeremy Harlam '15 presenting. Third place and $10,000 went to Colorado Springs Food Rescue, whose pitch was presented by Meredith Bird '15 and Dan Lewis '14. The competition, now in its third year, was held April 7 in the Cornerstone Arts Center.
Akpablie, a math and biochemistry major from Ho, Ghana, has spent years developing a mobile phone charger that uses battery and solar energy to charge phones and other digital devices. His company, Kadi Energy, aims to bring innovative energy solutions and empower social change in Africa. Ghana has an estimated 16 million mobile phone users, but more than 40 percent have no electricity to charge their phones and debilitating blackouts can last for weeks. Charging stations are available, but can be time-consuming and expensive. "Winning this means a lot to me," Akpablie said. "It's been a lifelong goal to solve these problems; problems I grew up with and that the people I grew up with encounter almost daily."
Lindseth and Harlam's company, iDro, is an agricultural technology start-up "which helps anyone, grow anything, from anywhere in the world, year round." iDro uses sophisticated plant science to monitor every aspect of a plant's life so the grower doesn't need to be a certified botanist in order to grow his own food.
Bird and Lewis presented the Colorado Springs Food Rescue app, which they described as "the Uber of food distribution." The app would help alleviate inefficiencies in food redistribution on both ends of the transfer - those seeking to donate food and those seeking to quickly and effectively access and redistribute the food.
The two other teams presenting both pitched apps; Friendlier was presented by Anubrat "A.P." Prasai '17 and Soeren Walls '16, and Bene was presented by John Silvester '17 and Dan Keogh '17.
"I'm impressed with the scope of the ideas presented," said Heather Carroll '89, a member of CC's Board of Trustees and president and executive director of the Joseph Henry Edmondson Foundation, who served as one of the five judges. "These ideas can have real impact. The students are taking all the skills they learned from their liberal arts education to make a difference in the real world."
"Innovation is what it's all about; it's what CC is all about," said Bob Selig '61, a CC trustee and president of Davis Instruments. "It's the perfect combination; you have all the ingredients here at CC to solve the big problems."