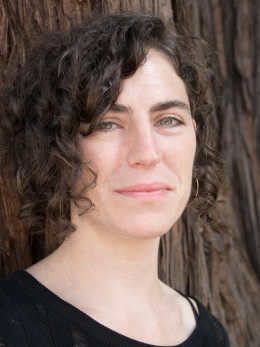 Award-winning reporter Ali Budner is joining 91.5 KRCC, Colorado College's NPR-member station, as part of a journalism collaborative focusing on the Mountain West.
Budner, who will start Feb. 12, comes to 91.5 KRCC from the San Francisco Bay Area. Her reporting there focused on a variety of topics ranging from health and the environment to homelessness and immigration.
"I'm thrilled to be joining the reporting team at 91.5 KRCC and to be a part of the new CPB-funded regional journalism collaborative," says Budner, a Texas native. "I'm most excited to dig in and find out how people in Southern Colorado are navigating the changing political and ecological landscapes around them. And I'm curious to explore all the ways these stories connect to the broader experience of people throughout the Mountain West and the country as a whole."
Budner also will train to be a substitute local host for the NPR flagship programming that is aired on 91.5 KRCC.

Budner's resume includes work with The Kitchen Sisters, KPFA radio in Berkeley, California, and KALW radio in San Francisco. She was a managing producer for five years for KALW's daily live public affairs call-in show, "Your Call," with Rose Aguilar, which was named by The Nation magazine as "the most valuable local radio show in the country."

While at KALW, Budner also reported and co-produced an hour-long documentary, "The Race to an Emergency," about the 911 emergency response system in Oakland, California. It received several national awards, including the Edward R. Murrow award for best radio news documentary in a large market.
Since then, Budner's reporting has appeared on PRI's "The World," NPR's "Latino USA," and WHYY's "The Pulse," among other prominent outlets. She also traveled to Fukushima, Japan, to report on the long-term aftermath of the tsunami and radiation disasters.
The journalism collaborative unites six stations in five Mountain West states - Colorado, Idaho, Wyoming, Utah, and Montana - to better serve the people of the region. Budner will contribute stories focusing on land and water issues, growth, and Western culture and heritage.