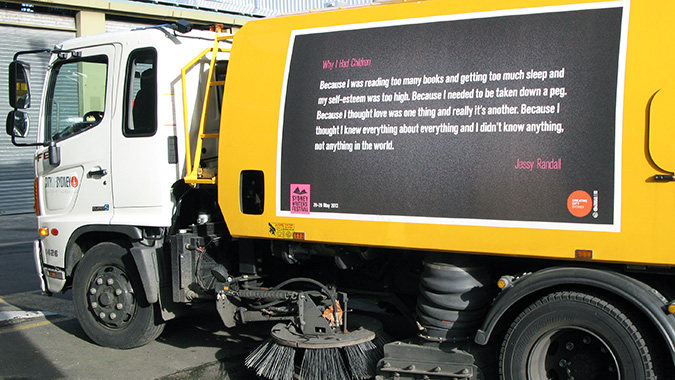 You may not think of a street-cleaning truck as poetry in motion. But featured on select trucks in Sydney, Australia, is a poem by Jessy Randall, archivist and curator of special collections at Colorado College's Tutt Library. Additional trucks in the fleet display poems by other notable poets such as W.B. Yeats, Kay Ryan, former U.S. Poet Laureate, Rainer Maria Rilke, John Berryman, and a range of revered Australian poets.

The poetry convoy, curated by Luke Davies, the 2012 Prime Minister's Literary Award-winning poet, is an eclectic selection, capturing moments in time, observations, and whimsy. Davis chose poems "that stop you in your tracks, and are utterly unlike the advertising copy that litters the verbal landscape."

Randall's featured poem, "Why I Had Children," comes from her new book, "Injecting Dreams into Cows." The poem can be read toward the bottom of this link.

"I thought this poem was about my own, somewhat lonely experience of motherhood," Randall says. "It's been a revelation to me that others relate to it."

The program is part of the Sydney Writer's Festival, and features 19 poems on 11 "street-cleansing" trucks, as they are called in Australia. Each truck features two giant poems, measuring more than six and a half feet wide and three and a half feet high.