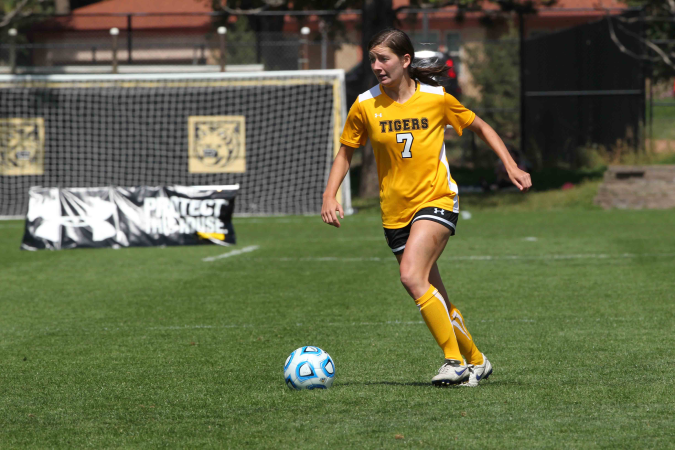 Jessie Ayers '15, one of the most decorated players in the 30-year history of Colorado College women's soccer, was selected by defending champion FC Kansas City in the third round of the 2015 National Women's Soccer League College Draft.

Ayers, the 26th overall pick, is the first-ever Tiger drafted by an NWSL franchise.

"It's a little bit intimidating, but mostly exciting," Ayers said about being taken by the defending league champion. "I've watched them play and they look like a really fun group. They are tactically sound and really quick on the ball, so I couldn't be any more excited."

Ayers got the call from the Kansas City club while watching the draft, seconds before her selection was revealed.

"I was watching the draft when they called and said 'Hi, is this Jessica?' I said 'speaking,' and they asked 'are you watching the draft?' I said 'yes' and they said 'watch this.' The minute they said that, my name popped up. It was the coolest thing."

Ayers, who will graduate in May with a bachelor's degree in history/political science, finished her CC career tied for third in program history with 32 career goals and tied for fourth with 74 points. During that time, she struck for 10 game-winning goals and set up the deciding goal on five occasions.

"What a great day for Jess and CC soccer," head coach Geoff Bennett said. "I am so proud of Jess and how hard she has worked for this.

"FC Kansas City has just invested in a player that will do everything in her power to help that franchise and I know she will continue to work hard and put her best foot forward each and every day."

Among her many awards and honors, Ayers was named to Missouri Athletic Club's Hermann Trophy Watch List each of the last two years and was selected to train with the U.S. Under-23 Women's National Team in June 2014.

The Seattle native was named a second-team all-American by the National Soccer Coaches Association of America as a sophomore in 2012 and was one of only four underclassmen among the 32 players to earn a spot on the first or second teams.

Ayers became the 14th Tiger to earn All-America honors from the NSCAA, the first since Robyn Neigle '92, Karla Thompson '93, and Cissy Wafford '92 were recognized in 1990. She also received all-region honors and was a first-team all-conference selection all four years at CC.

Ayers was named Conference USA's Midfielder of the Year during her first two collegiate seasons, as well as the league's Freshman of the Year 2011. She also was a second-team selection on Soccer America's all-freshman team.

During her career, Colorado College posted a combined 51-20-14 record. The Tigers won back-to-back C-USA regular-season titles as well as the 2013 conference tournament, and made two NCAA Tournament appearances.

"It's a testament to how well our program has done the last four years," Ayers said. "Obviously, you can't do it alone. It's great for the entire team." Read more.