Two Colorado College juniors have been recognized by the Barry Goldwater Scholarship and Excellence in Education Program. Jessica Badgeley '15 has been named a Goldwater Scholar, and Gautam Webb '15 has received a Goldwater Honorable Mention. The Goldwater Scholarship is very competitive and is considered by many to be the top scholarship for students pursuing a career in research science, both Badgeley and Webb's advisors said.

Badgeley, a geology major and math minor from Seattle, Wash., studied Blood Falls during the 2013 fall semester. Blood Falls is a bright red, salty brine periodically pouring off the end of Taylor Glacier in the Dry Valleys of Antarctica. Badgeley spent much of November and December on an NSF-funded project with a team of scientists from the University of Alaska Fairbanks, using remote sensing techniques with the goal of locating the Blood Falls brine within Taylor Glacier.

In March Badgeley began the processing and analysis of data obtained in Antarctica, and the results will be the topic of her senior thesis, as well as her presentation to the larger research team and several papers her team plans to write this summer.

She plans to obtain a Ph.D. in glaciology in order to conduct research in subglacial hydrology and teach at the university level. "I want my research to aid our understanding of glacier dynamics and the future prospects of the valuable freshwater resources they contain," Badgeley said.

"Jessica is remarkable in her dedication and her passion for a career in scientific research and teaching," said Geology Professor Eric Leonard, her academic adviser, who also advised collaborative research they conducted the summer after Badgeley's first year. "Since her high school days, Jessica has sought out opportunities to do interesting and challenging research in the earth sciences, working on a variety of projects. She is as adept at working in the field under adverse conditions as she is in undertaking sophisticated computer modeling. Jessica's receipt of a Goldwater Scholarship is a well-deserved recognition of her potential as a scientific scholar and teacher," Leonard said.

Badgeley decided to attend CC after hearing about the unique opportunities the Block Plan provides for studying geology. "Paired with the strong geology program here at CC, the Block Plan allows students to learn geology hands-on in the field. We get to see real examples of the geologic phenomena we learn in the classroom," she said.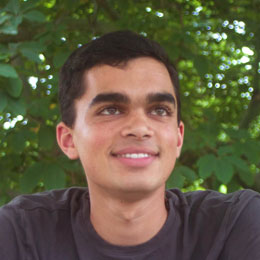 Gautam Webb, a math major from Golden, Colo., conducted research on avalanche polynomials in the abelian sandpile model last summer at the PURE Math Research Experience for Undergraduates in Hilo, Hawaii. He plans on attending a second REU this summer, this time at San Diego State University.

The abelian sandpile model is a mathematical illustration of self-organized criticality. The term "self-organized criticality" refers to the property of a system being naturally driven to a critical state, from which a disturbance produces fluctuations of a wide range of magnitudes, Webb said. In the model, such fluctuations are called avalanches. The avalanche polynomial of a graph is defined in order to study the distribution of avalanche sizes. "My research focuses on the results of a large computational experiment in Sage that has led us to conjecture formulas for the avalanche polynomials of some well-known graph families.

"I love math and I enjoy doing research in this field," Webb said.

"Gautam has proved himself both through his course work and his research to be deserving of this honor," said Associate Professor of Mathematics and Computer Science Amelia Taylor, his advisor. "He has that rare combination of being both creative in his mathematical thinking and the ability to crank through detailed computations and understands the value of both in the process of mathematics. I am always amazed at the enthusiasm with which Gautam pursues mathematical research and am excited to see the results of his research in the coming year."

Webb, who lived in Sydney, Australia, the first six years of his life, and in New Paltz, N.Y., the next six, attended Waldorf schools throughout, which also follow a Block Plan. "When I was looking at colleges, this was a big factor, so CC was a natural choice for me," he said. After graduation, Webb plans to earn a Ph.D. in mathematics, conduct research in pure mathematics, and teach at the university level.

The Barry Goldwater Scholarship and Excellence in Education Program was established by the United States Congress in 1986. The purpose of the foundation is to provide a continuing source of highly qualified scientists, mathematicians, and engineers by awarding scholarships to college students who intend to pursue research careers in these fields.