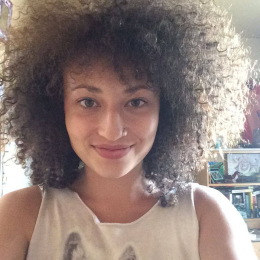 Jazlyn Andrews (Feminist & Gender Studies '17 - Race, Ethnicity, & Migration Studies minor) recently published an article entitled "(F)Act of Blackness: The Politics of Mixed Race Identity."
In the article, she writes, "Through an examination of the 2014 film Dear White People based loosely on Simien's experiences at Chapman University, I examine how the Tragic Mulatta construction makes it acceptable for mixed race women to become sites for White men to explore their fears of, and fascinations with, an eroticized Other. Such a practice perpetuates an investment in a black-white binary that essentializes mixed race people to "either/or" rather than "both/and," which maintains the property value of, and investment in, Whiteness. Importantly, the construction of, and reliance upon, a black-white binary erases mixed-race identities and functions to mitigate the threat we pose to blending the color line."
The Feminist Wire is a peer-reviewed online site that aims to "provide socio-political and cultural critique of anti-feminist, racist, and imperialist politics pervasive in all forms and spaces of private and public lives of individuals globally."