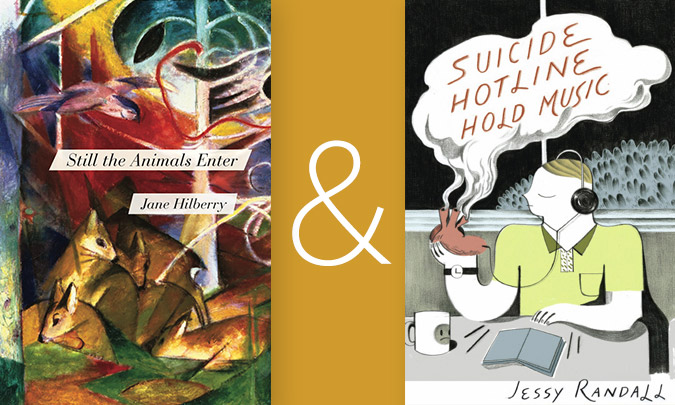 Two well-known Colorado College poets, Jane Hilberry, professor of English, and Jessy Randall, curator of special collections at Tutt Library, will hold a book launch to celebrate the publication of their books at 7 p.m., Saturday, April 30, in the Screening Room at the Cornerstone Arts Center, 825 N. Cascade Ave.
Their most recent works, Hilberry's "Still the Animals Enter" and Randall's "Suicide Hotline Hold Music," were released a day apart this week by the same publisher, Red Hen Press. Additionally, both had videos made featuring their poems: Hilberry's poem "All A's" is produced by filmmaker, poet, and CC alumna Cynthia Lowen '01, and Randall's "Superhero Pregnant Woman" by a group of high-school students in Elk River, Minnesota. They plan to show the videos (or "motionpoems," as they are sometimes called) at the launch party.

Hilberry and Randall are traveling the country giving readings, together and separately. They have read in New York City (together on March 15) and will be giving additional readings in Ann Arbor, Detroit, Boulder (together on Thursday) University of Colorado-Colorado Springs' Heller Center (together on April 28) Washington, D.C., Los Angeles (together on August 23), and Ridgway, Colorado.
In "Still the Animals Enter," Hilberry does not shy away from the difficult; rather, she looks into loneliness, a friend's suicide, the death of a parent. Her poems have been called "earth-rich, lush, and vibrant," and in her poems, Hilberry - by way of her speakers - wrestles with inheritance, prudence, fear, desire. "These are songs of a long skirmish, songs of a hard-won innocence steeped in experience. The vision within is both wise and generous," says poet Kate Northrop, who has presented her work at CC as part of the Visiting Writer's Series.

Other books by Hilberry include "Body Painting," which won the 2006 Colorado Book Award for poetry, "This Awkward Art: Poems by a Father and Daughter," and "The Burden of Beholder: Dave Armstrong and the Art of Collage," which she edited.
Randall's "Suicide Hotline Hold Music" is a collection of poems, mostly short ones, and poetry comics ("poorly-drawn, mostly-text, sometimes-funny, things," says Randall). Scott Poole, the house poet for Public Radio International's "Live Wire!" says "Funny, playful, and vibrating magic from the quotidian, these poems and comics, if they don't solve all universal riddles for you, will reintroduce wonder to your heart."
Randall's other books include "A Day in Boyland," which was a 2008 finalist for the Colorado Book Award, "Injecting Dreams into Cows," and "There Was an Old Woman."