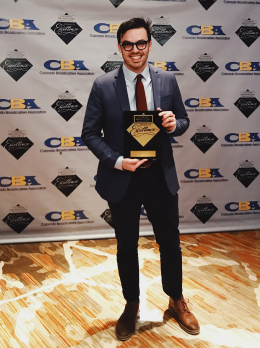 Jake Brownell '12, a reporter and producer at 91.5 KRCC, Colorado College's NPR-member station, recently won a Colorado Broadcasters Association Award of Excellence for his news feature, "Guns to Garden Tools: Beating Swords Into Plowshares." The story aired Oct. 12, 2017, shortly after the Oct. 1 Las Vegas, Nevada, shooting which left 58 people dead and 851 injured. "Beating Swords Into Plowshares" examines one Colorado Springs man's efforts to offer people a symbolic way to dispose of their firearms by taking unwanted guns and turning them into gardening tools.
"As a local reporter, I'm always on the lookout for how national and international stories impact Southern Colorado, and in the aftermath of the Las Vegas shooting it felt as though people everywhere were struggling to make sense of the unimaginable scale and viciousness of that tragedy," says Brownell, who graduated magna cum laude from Colorado College as a philosophy major and has been at the station since 2012. "A few days after the shooting, I saw a Facebook post from someone I know here in Colorado Springs referencing RAWtools, an organization that converts unwanted guns into garden tools. I was intrigued and reached out to Mike Martin, the founder of the organization, who invited me to his workshop," he says.
"The problem of gun violence in America is vast and multifaceted, and at times it can seem utterly intractable. I was fascinated by Mike Martin's choice to meet this complex problem with such a simple solution. In a world where the political and cultural obstacles to addressing gun violence can seem so insurmountable, Martin provides a space for people to process their grief and frustration in a very tangible and direct way," says Brownell.
"On one hand, it struck me as somewhat innovative - a novel, local response to a national problem - but it's also a practice with ancient roots, based as it is in the Old Testament call to beat 'swords into plowshares.' Sadly, I think the story continues to resonate as we continue to see similar tragedies regularly unfolding across the country."
Brownell's work has been recognized with two regional Edward R. Murrow Awards for News Documentary, as well as awards from The Associated Press Television and Radio Association, Colorado Broadcasters Association, Public Radio News Directors Incorporated, and others. His stories have been featured on WBEZ, CBC Radio 1, and NPR stations across Colorado.