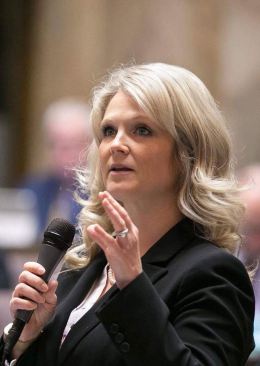 Colorado College alumna Jacquelin (Anderson) Maycumber '02 won a Republican State House seat in Washington in her first legislative run.

Maycumber, her husband, and three children reside in Republic, Washington. She represents five counties: Ferry, Pend Oreille, Stevens, and parts of Okanogan and Spokane.

Maycumber was appointed to Republican Shelly Short's House seat when Short moved from the House to the Senate through an appointment to fill an empty seat earlier this year. Maycumber, who was Short's legislative assistant, beat Democrat Susan Swanson in the Nov. 7 election.
A biochemistry major at Colorado College, Maycumber received the Winona Jewett Finch Scholarship, the Class of '33 Scholarship, and was a member of the order of Omega.

In addition, Maycumber played NCAA softball for CC and was award the Howard Hugh's medical research grant upon graduation. Maycumber currently is assistant ranking in the House Environment Committee and sits on the Health Care Committee. She says her CC education successfully prepared her for writing innovative legislation regarding manufacturing, the environment, and the national Bone Marrow registry.