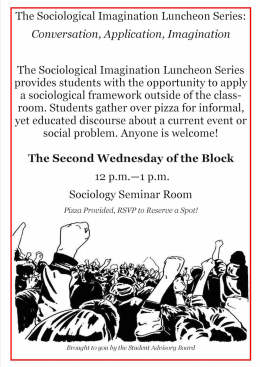 The Sociology Department is excited to introduce The Sociological Imagination Luncheon Series! Brought to you by the Student Advisory Board, this series is designed to foster a space for students to talk to one another and to community members, to share ideas, and most importantly, to think sociologically outside of the classroom.
The Sociological Imagination Luncheon Series
Second Wednesday of the block
12:00p.m. - 1:00p.m
Sociology Seminar Room (Pizza Provided)
This series provides students with the opportunity to apply a sociological framework outside of the classroom. Students gather over pizza for informal, yet educated discourse about a current event or social problem.
The Block 2 topic is gun control. Questions addressed include: How does media coverage (or lack thereof) shape public opinions on gun control? How does this in turn inform public policy? What is (or should be) the reach of the industry's influence on both opinion and policy?
Anyone is welcome! Those who wish to participate must RSVP to Eli Michaels (Sociology Paraprofessional) by the second Monday of the block at 5pm.
Email Elizabeth.K.Michaels@ColoradoCollege.edu, or sign up on the sheet on Eli's door (Palmer 129) to reserve your spot!