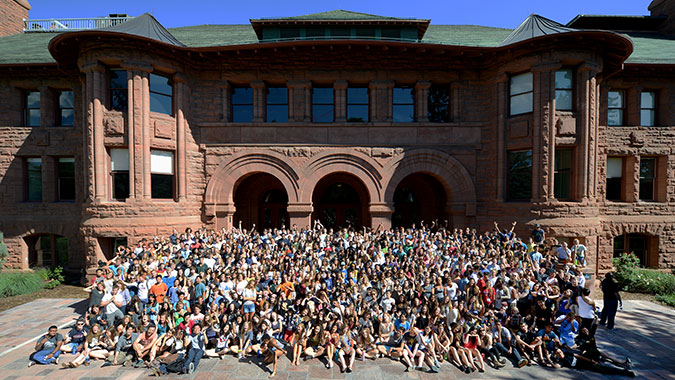 Opening Convocation marks the beginning of Colorado College's 141st academic year and helps to welcome the 595 members of the Class of 2018 and 37 transfer students. More than 7,600 applications were received for the incoming class, the largest number ever, resulting in an 18 percent admit rate.
This year's class brings a wealth of knowledge, experience, and talent to Colorado College. Sixteen percent are from Colorado, 22 percent from the West, 16 percent from the Midwest, 13 percent from the South, 25 percent from the Northeast, and 8 percent from abroad. Among the first-year students are:
40 international students
37 first-generation students
36 students who hold dual citizenship
16 Davis United World Scholars
A student who earned Warrior Society Recognition from the Indian Nation
An ensemble member at the Second City and a student who sang at Carnegie Hall
A 2013 NHL draft pick, a nationally ranked freestyle mogul skier, and a student who plays for the USA Amputee Soccer Team
Three students who climbed Mt. Kilimanjaro, two who biked across the United States, and one who completed a 450-mile canoe trip from Manitoba to Hudson Bay
Two students who competed in VEx Robotics World Championship, one who broke the world leap-frog record, and one who conducted shark research in Fiji
First-year and transfer students arrive on campus Aug. 23 and participate in a week of New Student Orientation activities, which culminate in a variety of community-service trips throughout the Southwest. The new-student orientation trips are led by student leaders and include opportunities in the backcountry for trail maintenance and campsite restoration work, as well as volunteer work at animal shelters, charter schools, museums and emergency food and shelter sites. Students will have contributed 10,000 hours of volunteer service to organizations throughout the Southwest - before classes even begin.
Classes begin Monday, Sept. 1 following Opening Convocation. Receiving honorary degrees are Charity Cereen Shouse Haygood '96, Joseph Henry Auner '81, and Woodward William Fischer '00, professor of geobiology at California Institute of Technology, who will deliver the keynote address, titled "No Prospect of a Beginning, No Vestige of an End."