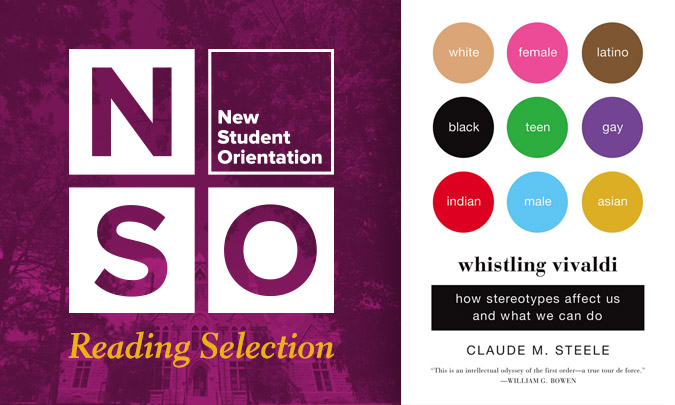 Colorado College's 2016 New Student Orientation book is "Whistling Vivaldi: How Stereotypes Affect Us and What We Can Do," by social psychologist Claude Steele. The book is a highly readable, first-person account that looks at the impact of identity threat.
All incoming first-year undergraduates and transfer students receive a free copy of the book as part of Colorado College's Common Book Read program.
In his research, Steele focuses on "how our social identities shape who we are, what we do, and how well we do it." Steele's conclusions about stereotype threat are groundbreaking, says Associate Dean of the College Re Evitt. "He emphasizes that stereotypes not only negatively impact academic performance but can also reinforce gender disparities and racial segregation by undermining an individual's sense of belonging, trust, feelings of competence, future aspirations. Most important, Steele considers how we might work to mitigate stereotype threat."


Kailee Stiles '17, a member of the committee that selected the book, adds a student perspective, saying "I couldn't have been happier to have been a part of the dialogue in picking what I do believe will be an invaluable read and an important reference point for all students and faculty far beyond NSO week.
"I had my own standards for choosing a book. The most important question I asked myself, and the committee, was if the book would also tell the class of 2020 something critical about being at CC - whether related to our mission and core values, or related to recent events on campus." Stiles notes that many campuses across the nation, including CC, dealt with race-related issues during the last year.
"Could we use the NSO book to help equip students to handle these controversies gracefully? Could we give them a leg up in being active and healing members of our community, particularly when they were not here to see the open wounds?" she wondered. "As we delved deeper and deeper into the submissions, we also began to ask ourselves how to reconcile the desire for a scientifically-minded book with the desire to contribute to these conversations on campus. Truth be told, the more we thought about these questions and looked at the narrowed list of submissions, the more 'Whistling Vivaldi' seemed the perfect answer.
In the NSO capstone address, Keith Maddox, associate professor of psychology and director of the Tufts University Social Cognition Lab, will explore the implications of Steele's research for the Colorado College community. Following the address, students will break for small group discussions of the book. See complete New Student Orientation information.
Additionally, to involve the greater CC community, the academic deans and the Butler Center, led by Paul Buckley, are hosting a series of conversations about the book for interested faculty and staff throughout the summer.