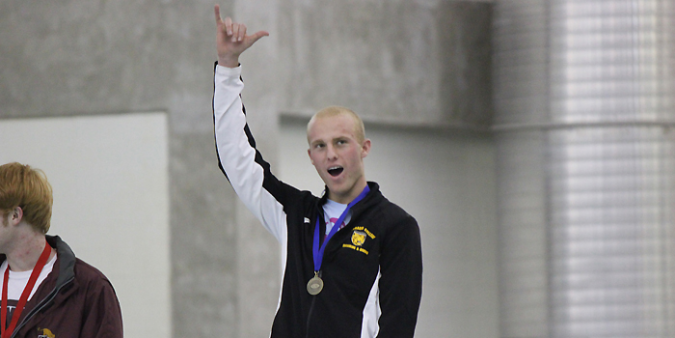 The Tigers won eight individual titles and one relay, surpassed the NCAA 'B-Cut' qualifying score in seven events, and set a total of 16 school records.
On the men's side, Austin Howlett '15 won both the 1- and 3-meter boards and was named Diver of the Meet for the second year in a row.
Robbie Adler '16 won 100-yard breaststroke and swam the third leg for CC's winning foursome in the 800 freestyle relay, joining Michael Bennett '14, Brian Kopec '15 and Matt Nadel '15.
Colin Chupik '16 took first place in the 200-butterfly.
Olivia Dilorati '16 finished first in both backstroke events and was the only CC woman to win multiple events.
Brenna Day '14 claimed the 50 free title, while Megan Gillespie '16 prevailed in the 200 butterfly.
The NCAA qualifying scores were posted by Chupik, Dilorati, Gillespie (2), Howlett (2), and Nicole Fazio '13 in the women's 3-meter diving.
Dilorati led the assault on the Schlessman Natatorium record board, setting three individual school records and two more as part of relay teams. Gillespie broke two solo marks and one more in a relay.
Fazio now owns all four of the women's diving records.
Howlett set program records in both diving events, while Chris Garrity '15 and Flynn McGuire '13 teamed with Adler and Chupik to set marks in both medley relays.
The following is a complete list of the Colorado College records set last week:
Women's 400 Medley Relay - 4:00.18 - Dilorati Nonweiler, Gillespie, Day
Men's 400 Medley Relay - 3:28.56 - Garrity, Adler, Chupik, McGuire
Men's 200 Medley Relay - 1:34.80 - Garrity, Adler, Chupik, McGuire
Women's 400 Individual Medley - 4:35.40 - Megan Gillespie
Men's 400 Individual Medley - 4:10.84 - Kaleb Roush (prelims)
Women's 100 Butterfly - 58.23 - Olivia Dilorati
Women's 100 Breaststroke - 1:08.21 - Jackie Nonweiler
Women's 100 Backstroke - 58.45 - Olivia Dilorati
Men's 100 Backstroke - 52.45 - Chris Garrity (prelims)
Women's 200 Backstroke - 2:06.79 - Olivia Dilorati
Women's 200 Butterfly - 2:08.16 - Megan Gillespie
Men's 200 Butterfly - 1:53.50 - Colin Chupik
Women's 400 Freestyle Relay - 3:35.09 - Dilorati, Dalton, Erin Holmes, Day
Men's 3-Meter Diving - 527.75 - Austin Howlett
Men's 1-Meter Diving - 480.95 - Austin Howlett
Women's 3-Meter Diving - 460.95 - Nicole Fazio