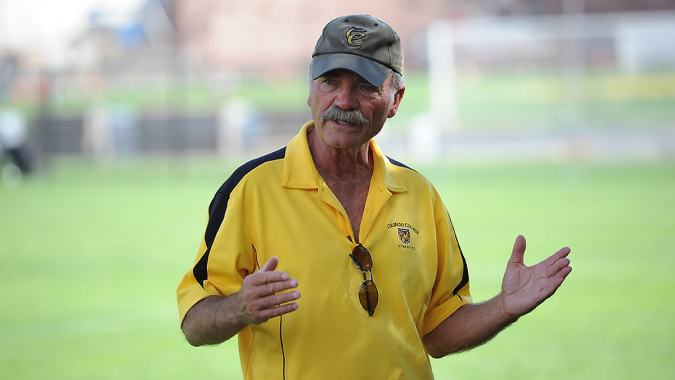 Legendary Colorado College men's soccer coach Horst Richardson has been named the recipient of the 2017 United Soccer Coaches Honor Award, one of the two most prestigious accolades given by the organization.

Presented annually since 1942, the Honor Award is the association's highest honor recognizing the career of a coach whose work through the association has enhanced the soccer coaching profession and contributed to the game as a whole.

Richardson becomes the 78th recipient of the award and will formally be recognized on Jan. 19 at the 2018 United Soccer Coaches Convention in Philadelphia.

"I am honored and humbled by this recognition," says Richardson. "For more than 50 years, I attended the annual banquet at the convention, watching legends walk across the stage to receive the Honor Award and I never imagined I would be in their distinguished midst. I am very, very grateful to receive this award."

Richardson finished his career with a 567-304-71 record at Colorado College, where he was hired as an assistant coach in 1965 before serving as head coach for 49 years from 1966 until his retirement in 2014.

In addition to compiling the sixth most wins in men's college soccer history, Richardson led the Tigers to seven Rocky Mountain Intercollegiate Soccer League titles and 19 appearances in the NCAA Division III Championship while earning United Soccer Coaches Regional Coach of the Year honors on five occasions.

Richardson was awarded a Letter of Commendation by United Soccer Coaches in 1997 and received the Bill Jeffrey Award in 2000 for long-term service to college soccer and his support of the association. His involvement with the association dates back to 1966 and over the course of his career, he was a member of the Intercollegiate Soccer Association of America ratings boards and Soccer Journal editorial board, chaired the International Committee and Bill Jeffrey Award committee, served as a regional representative and hosted United Soccer Coaches courses on campus at Colorado College.

Together with his wife of 50 years, the Horst and Helen Richardson Scholarship fund was established through the United Soccer Coaches Foundation for coaches serving the soccer community in the region of Colorado, New Mexico, and Arizona, where the Colorado College men's soccer program regularly conducted philanthropic projects for Native American communities.

"We are delighted to recognize Horst Richardson for an extraordinary career in coaching and giving back to his profession through service to his institution, college soccer and our association," United Soccer Coaches President Charlie Slagle said in a release. "His success on the field is evident but, it is his extensive and unselfish involvement off the pitch that should be an inspiration for other coaches."

A Colorado Springs resident, Richardson has also generously donated his time and talents within the local community, acting as a past president of the Colorado Springs Board of Education and a state coach in Colorado for U.S. Soccer. He received the Colonel F. Don Miller Sports Service Award from the Colorado Springs Sports Corporation and was inducted into both the Colorado Springs Sports Hall of Fame and Colorado Soccer Hall of Fame.

Born in Nürnberg, Germany, during World War II, Richardson immigrated to California in 1955 and attended the University of California-Riverside for his bachelor's and master's degrees before earning his Ph.D. from the University of Connecticut. In addition to coaching, he was employed by Colorado College as a professor in the school's German department for 43 years, specializing in German play productions.

The list of past recipients includes Colorado College's Jay Engeln (2009), North Carolina's Anson Dorrance (2010), Ohio Wesleyan University's Jay Martin (2006), and former United States Soccer Federation Secretary General Hank Steinbrecher (2005).

Founded in 1941 as the National Soccer Coaches Association of America, United Soccer Coaches is the trusted and unifying voice, advocate and partner for coaches at all levels of the game.