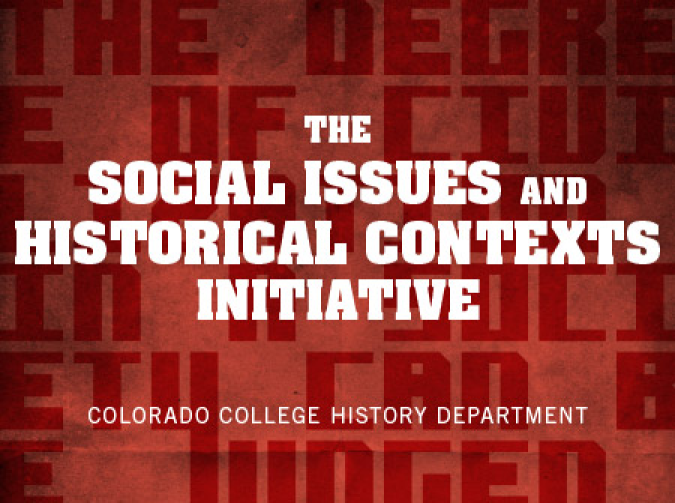 Colorado College's History Department is launching a new initiative, aimed at exploring how the past informs current efforts to remediate urgent social concerns, and will begin by examining criminality and correction.
CC's new Social Issues and Historical Contexts (SIHC) initiative, funded by a three-year, $200,000 grant from an anonymous donor, recognizes that in recent decades, professional scholarship in history has tended to shift from national, political, and period-specific investigations to transnational and trans-historical issues common to human experience across time and space.

Embracing this movement, the SIHC program brings together Colorado College students, faculty, staff, and community members in wide-ranging discussions with regional and national experts in public and non-profit agencies. Upcoming speakers include:
Rashad Shabazz of the University of Vermont on race and incarceration:
"The Rise of Carceral Power in Chicago: Mapping Race, Place and Sex along the Color Line"
7 p.m., December 8, Gaylord Hall
Jonathan Metzl of Vanderbilt University on mental illness and confinement:
"Race, Politics and the Criminalization of Mental Illness"
7 p.m., January 28, Gaylord Hall
Jasbir Puar of Rutgers University on terrorism, gender, and imprisonment:
"The 'Right' to Maim: Disablement, Gaza and Disaster Capitalism"
7 p.m., March 2, Gaylord Hall
"The History Department here brings the past into conversation with the present in a direct, compelling way," said History Professor Carol Neel, who coordinates the program. "Few issues in the United States today are as wrenching as mass incarceration. How did we get to a point at which more than two million Americans, overwhelmingly Americans of color, are in prison? What are the alternatives? How can we follow this issue- this crisis - back through historical notions of power, punishment, and the meaning of bodily confinement? Historians work in the past, but they work about the present," Neel said. "We encourage understanding and teach compassion to enable constructive response to the difficulties we share with the people of the past."
The SIHC initiative opens new possibilities for linking analysis of the contemporary world with distant points of historical comparison.
SIHC-funded discussions will address crucial contemporary issues through exploration of the historical roots of incarceration as means of discipline, punishment, and social control. Discussions of the sources of criminality, broad human rights considerations in imprisonment, paradigms of mental illness, and critiques of the exercise of public justice, including the death penalty, will be central to the program's teaching and community involvement. An essential component of the Social Issues and Historical Contexts initiative is that it integrates rather than associates contemporary social issues with historical study.
The initiative actively integrates Colorado College in the city and region. By placing prisons and criminality at the center of far-reaching discussions, its aim is to eventually expand the focus to related, regionally significant issues associated with military service and familial disruption, seasonal migrancy, and homelessness. It also opens the way to the exploration of additional issues including media, attitudes toward the environment, public education, and poverty.
The program developers envision an eventual collaboration between CC's History Department and a variety of local non-profits and state and federal institutions, emphasizing the usefulness of historical perspectives for critical review of contemporary attitudes and public policies. And there is a parallel aim: To engage young people with the past by pursuing problems of vital contemporary importance through the lens of time.