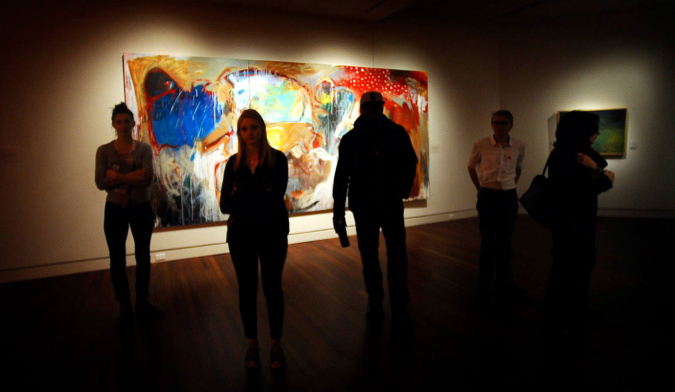 For a brief few minutes, seven students are focused on the "realness" of a poem one of them has just read. It's a bold, focused poem about forests, bodies and life.
"You are on the truth nerve," Idris Goodwin, Mellon Fellow in the Arts, tells the poet, one of the students gathered for his spoken word workshop, one of the college's new set of offerings for the Half Block.
The students carefully discuss the poem. They like it, and they want more. In a deft few minutes, they've suggested an edit, and the poet removes a line. She smiles. They sit back in their chairs, happy.
"It's so much about the experience of listening," said Goodwin.
Goodwin's workshop, "The Vocab: Critical Approaches to Spoken Word Writing and Performance," is one of several new classes or workshops offered during the nine days of the Half Block. His students are among the 227 students who have enrolled this year, according to Career Center Director Megan Nicklaus.
Students do not get credit for these courses, and most of them are free.
The offerings are in addition to the regular academic classes offered for credit during the Half Block.
Among the other offerings are Princeton Review prep courses for students who plan to take the GMAT, GRE, LSAT, or MCAT, all tests they need for applying to graduate or professional schools. Rick O'Donnell, a CC graduate and chief revenue officer for The Fullbridge Program in New York and Boston, is teaching an immersive course in finance for students interested in financial services careers.
Other courses include skill building and personal branding (with social media), career choices in the health professions, outdoor education, and courses aimed at helping students understand the world of finance and work in general.
One course, "Entrepreneurial Interest: Startup Bootcamp," taught by Patrick Bultema, is a "crash course" in what's needed to plan, launch and execute a successful startup company.
"These help our students supplement the liberal arts, to provide opportunities for them to develop business skills," said Nicklaus. Other courses, such as a series of arts and crafts courses in jewelry making, batik, weaving and bookmaking, call upon students' creativity.
Goodwin's workshop, with its emphasis on speaking in public and poetry, she noted, does both.
A final activity for the Half Block is an etiquette dinner. The evening starts with "mocktails" and an elaborate, formal dinner with students, faculty, staff, alumni and community members, meant to help students learn to navigate the world outside college.