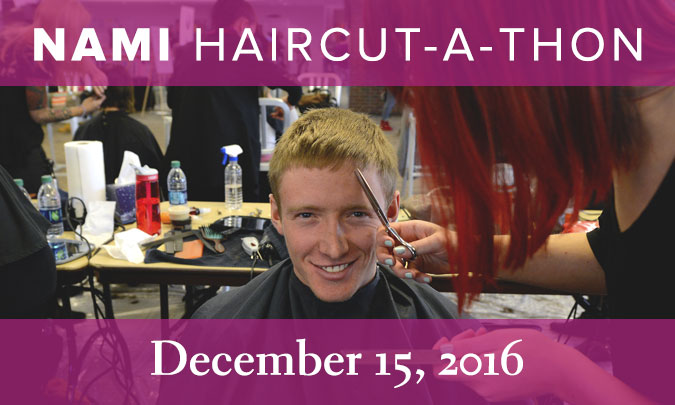 Need a trim before heading home for the holidays? Join NAMI and the stylists from VEDA Salon between noon and 5:30 p.m., Thursday, Dec. 15 in the Worner Campus Center. These "haircuts with a purpose" benefit the Colorado Springs affiliate of the National Alliance on Mental Illness (NAMI).
This marks the fifth year that Colorado College has partnered with NAMI on the Haircut-a-Thon benefit. Last year, nearly 100 members of the Colorado College community participated in a November haircut-a-thon, raising $1,434 in donations from the CC community. Free food, drink, and music will be provided at the event, and a $10 minimum donation is suggested.
Colorado College also has a NAMI On Campus chapter, a student-run organization dedicated to raising awareness of and destigmatizing mental illness on the CC campus. The group transitioned from Active Minds to NAMI CC to take advantage of the national presence of the organization as well as the grass root structure. NAMI CC recently introduced The Glow Worm, a monthly newsletter that highlights and personalizes mentally health issues relevant to college students. NAMI CC both organizes and sponsors events such as films, speakers, and workshops highlighting issues of mental health and self-care. NAMI CC also is involved in planning events for National Eating Disorder Awareness Week, which takes place in February, and will hold an open event where people can share personal stories of hope and growth in dealing with mental illness, both directly in indirectly.
CC's Wellness Resource Center is the on-campus sponsor of the Haircut-a-Thon. The center conducts on-going stress and anxiety management workshops, as well as programming designed to develop the capability on campus to challenge stigma and respond to mental health challenges and issues with compassion and support. The center does this through trainings such as Mental Health First Aid, QPR (Question, Persuade, Refer, a suicide prevention training), and creating trauma-informed environments. The Wellness Resource Center also is planning events for National Eating Disorder Awareness week, with campus partners such as NAMI CC. Other Wellness Resource Center programming is designed to help people build skills for communication, conflict management, and resiliency.