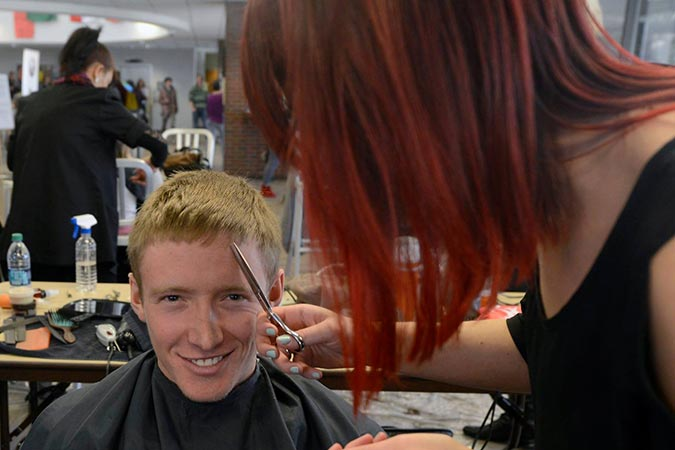 Nearly 100 members of the Colorado College community participated in the haircut-a-thon in Worner Campus Center on Wednesday, Nov. 18, to benefit the Colorado Springs chapter of the National Alliance on Mental Illness. It was CC's fourth year hosting NAMI's haircut-a-thon, and the event surpassed prior efforts both in terms of the number of haircuts and donations collected.

Veda Salon stylists saw 98 people on campus for haircuts, and these "haircuts with a purpose" resulted in $1,434 in donations from the CC community. All donations are matched dollar for dollar by Peak View Behavioral Health, resulting in more $2,800 for NAMI. "That is a remarkable number for a half-day event," said Lisa Hawthorne, marketing and fundraising coordinator for NAMI-Colorado Springs.
The event was sponsored by CC's Wellness Resource Center; musical entertainment was provided by CC's Bluegrass Ensemble, under the direction of Keith Reed; and Bon Appetit provided lunch for the volunteers and hairstylists.
NAMI and CC have held two events each fall since 2012, and the second haircut-a-thon will be held Dec. 8 at the same time, same location - noon to 5:30 p.m. in the Worner Campus Center. Just in time for the holiday break!