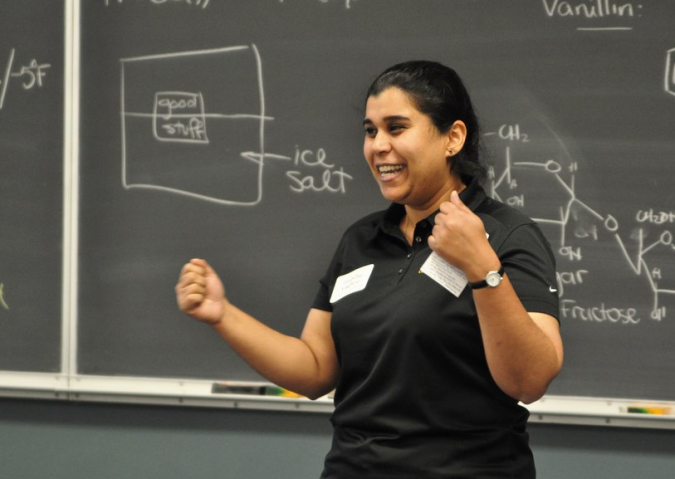 Colorado College Assistant Professor of Chemistry Habiba Vaghoo is the co-author of an article in the Journal of Fluorine Chemistry. The article, "Direct synthesis of 2-/3-(trifluoromethyl) thiochroman-4-ones: Superacid-induced tandem alkylation-cyclic acylation of benzenethiols using 2-/3-(trifluoromethyl) acrylic acid," is the result of a three-month pre-tenure sabbatical she spent conducting research with Professors G.K Surya Prakash and George A. Olah at the University of Southern California in the spring of 2015. The current article is the first of two publications to come from that research.
A non-fluorinated version for synthesizing similar molecules also was published in December 2015 in the American Chemical Society's Journal, Organic Letters (http://pubs.acs.org/doi/abs/10.1021/acs.orglett.5b03172).
The research offers direct methods to synthesize both fluorinated and non-fluorinated thiochroman-4-ones under microwave and super acidic conditions. Thiochroman-4-ones have important applications in organic chemistry and have been studied for various biological applications. "This methodology allows us to make new series of both fluorinated and non-fluorinated compounds, many for the very first time," she says. "Fluorinated organic compounds have widespread applications in a variety of areas such as pharmaceuticals (e.g. Prozac, Lipitor), fine chemicals, and materials (Teflon, Liquid Crystal Display devices). This has led to a great interest in developing new ways to synthesize these compounds."

Prakash has made many significant contributions to the field of fluorine chemistry and is the recipient of many awards including the 2015 Henri Moissan Prize, created to commemorate Henri Moissan's isolation of elemental fluorine in 1886, and to stimulate research in the fields of fluorine chemistry. Olah is a 1994 Nobel Laurate in chemistry.