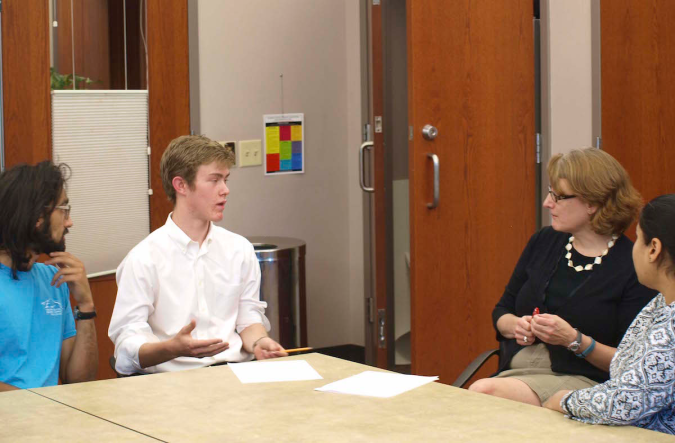 It's not your mother's kitchen - nor is it her chemistry course. Associate Professor Margaret Daugherty and Assistant Professor Habiba Vaghoo of the Chemistry and Biochemistry Department are team-teaching General Chemistry I/Kitchen Chemistry, which combines the introductory chemistry course with lab work surrounding food chemistry.

The two are recipients of a NExT (Networked and Extended Topics) course-development grant, part of a pilot project aimed at supporting innovation in the First-Year Experience (FYE) classroom. Projects range from hosting a guest filmmaker to bringing a food science expert into the chemistry class.

Daugherty and Vaghoo wanted to expand the two-block FYE course they co-taught last year to include more community engagement through issues of food access and healthy eating. "This class is perfect to get our students involved in the community and food issues," Daugherty said. "With experiences outside the lab, our first-year students will be invested in the community, both on and off campus." The class plans to partner with the Colorado Springs Food Rescue, a nonprofit founded by CC students, and the Colorado College Community Kitchen, which serves a hot meal to the hungry every Sunday.

Also incorporating community-based learning into the FYE curricula is Associate Professor of Philosophy Alberto Hernandez-Lemus, who will be teaching History of Modern Philosophy. He will add community-based experiences through two separate trips to Colorado College's Baca Campus. "I hope to 'contaminate' the discipline of philosophy. We will not have the pretention to assist, but to be humble and aware," Hernandez-Lemus said. Through story sharing and taking a critical look at charity through the lens of modern philosophers, the course will invite reflection on students' position in society-what does it mean to give or receive? While at the Baca campus, the class will meet with various nonprofits and stakeholders in the San Luis Valley.

These courses, as well as three others, are supported through a pilot grant from the Center for Immersive Learning and Engaged Teaching. This summer, recipients of the NExT course-development grants met in workshop sessions to discuss innovations in the FYE classroom.

The idea behind the NExT grants is "to support interdisciplinary, field-based, collaborative, and community-engaged pedagogy within the unique and vibrant community of the First-Year Experience," says Jessie Dubreuil, director of the First-Year Experience Program. "We hope to apply what we learned from the experience this year to future collaborations."

Additionally, as part of the innovative program, Visiting Professor of English and Race and Ethnic Studies Rashna Singh will teach Encountering India: Where the Twain Shall Meet? which examines the intersection and perception of India and the West. Dubreuil and Assistant Professor of Film and New Media Studies Scott Krzych are collaborating on developing digital resources for the collection, organization, and analysis of information for two other FYE courses, Introduction to Film Studies/Basic Filmmaking and Tradition and Change in Literature: All in the Family.