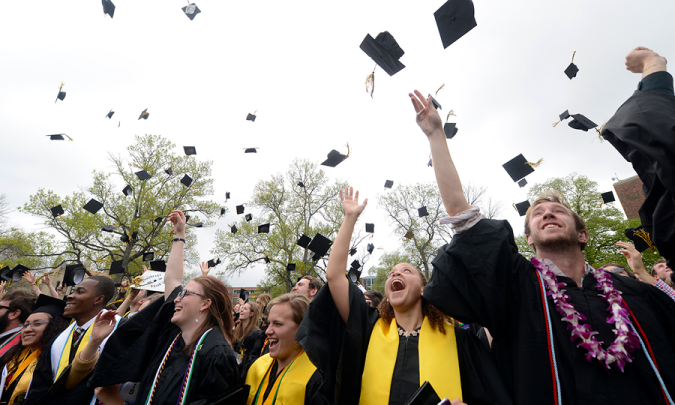 Colorado College will hold its 143rd Commencement ceremony at 8:30 a.m., Monday, May 22 on Armstrong Quad with New York Times-bestselling author and CC's Journalist-in-Residence Hampton Sides delivering this year's Commencement address, titled "A Heart That Watches and Receives."
Colorado College President Jill Tiefenthaler will present approximately 500 Bachelor of Arts degrees to members of the Class of 2017 and 17 Master of Arts in teaching degrees. She also will present honorary degrees to Sides, David van Diest "Van" Skilling '55, and Brenda L. Bass '77.
The Baccalaureate service will be held at 3 p.m., Sunday, May 21 in Shove Memorial Chapel, with Assistant Professor of Education Manya Whitaker delivering the Baccalaureate address. Each graduating student will receive two tickets on a first-come, first served basis, with tickets available at the Worner Desk. Due to limited seating, those without tickets can watch the live-streamed ceremony in the Kathryn Mohrman Theatre in Armstrong Hall.
In the event of inclement weather, the Commencement ceremony will be moved to the Broadmoor World Arena, 3185 Venetucci Blvd., and will begin a half hour later, at 9 a.m. Notification will be sent via the CC emergency system. If in doubt, check the Colorado College website and or tune in to 91.5 KRCC, CC's NPR-member station.