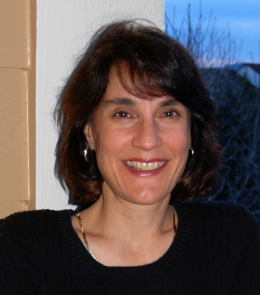 Virginia Visconti, the new assistant director for community-based learning and research at the Collaborative for Community Engagement, is excited about the possibilities her new position offers. Visconti, who started at CC in December 2012 after serving as director of the Public Service Research Program at Stanford University's Haas Center for Public Service, says any college course can incorporate a community-based learning or research component. That belief reflects her background in cultural anthropology and education policy studies - she has a dual major Ph.D. in both subjects from Indiana University-Bloomington and wrote her dissertation on rural household economies and formal schooling in a Northern Vietnamese commune. She also has a graduate certificate in Public Health Sciences from the Colorado School of Public Health, as public health is another of her interests.

The Collaborative for Community Engagement describes community-based learning as education that in roughly equal measures promotes student learning and meets community needs, and is thoroughly integrated into student coursework. Community-based learning includes class projects that draw upon students' and faculty members' intellectual expertise to clarify and search for solutions to problems facing a community.

Such courses may require student internships in community organizations, course fieldwork that encourages students to reflect on and refine theoretical ideas, and opportunities for students to provide feedback to members of the community and to teach - and learn - about their major discipline in off-campus settings. This kind of experiential learning is similar to what Visconti promoted while directing the Community-Based Research Fellows Program at Stanford, where she worked with research teams comprising faculty, undergraduates, and community partners. She also taught courses focused on public scholarship, civic engagement, and community-based research, drawing on her fieldwork experiences in Vietnam.
More Virginia Visconti facts:
Earned a B.A. in English literature from University of Illinois Urbana-Champaign and an MAT in English literature from Indiana University-Bloomington.
Originally from Des Plaines, Ill.; the third of four children.
Husband is a molecular biologist in the Infectious Diseases Division at the University of Colorado School of Medicine in Aurora; she commutes to CC from Westminster.
Is an avid cyclist, and vacations are planned with cycling in mind. Has cycled in Thailand, Vietnam, Cambodia, and Germany.
Hopes to get back into sewing; previously made garments such as blazers and men's shirts.
Enjoys national parks and grasslands.
Visconti quotes that didn't make it into the article: "I now live where I used to go on vacation." "I get paid to think and do something about what I really care about."