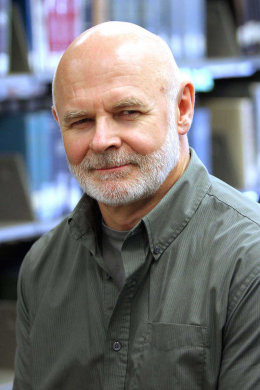 Ivan Gaetz, the new director of Tutt Library, is a man of many interests. Gaetz ("pronounced 'Gates' as in Bill Gates, but without all the money," says the CC Gaetz) is a Canadian who was raised in the Northwest Territories, south of the Arctic Circle in a town called Hay River. His parents were Pentecostal missionaries, and as a youngster he lived in a log cabin, traveling with his family by dog team in the winter.
Gaetz comes to Colorado College from Regis University, where he was dean of the library for 11 years. He earned a B.A. in Canadian history from the University of Alberta, followed by a Master of Divinity at the University of Saskatchewan. His interest in theology was not as much religious as it was philosophical, he says. Gaetz earned a Master of Theology from Regis College at the University of Toronto, a Master of Library Science and a Master of Education at the University of Alberta, and a Ph.D. in educational studies from the University of British Columbia. Along the way he also served as executive director of a medical organization, the Sub-Arctic Mission Association, in the Northwest Territories.
Gaetz says library science was a way to combine his various academic interests into a marketable career. "In library science one can be a generalist. It allows me to draw on my experience and interest in the humanities," he said.
Quick facts about Gaetz:
Following the log cabin/Indian village period, he grew up on Gaetz Drive in Hay River, N.W.T., named for his family.
In 1991-2, he lived in Times Square and worked as a librarian at Columbia's Union Theological Seminary.
Enjoys the wilderness, photography, and landscape painting.
He's an Arctic fisherman, once catching a 45-pound lake trout.
Favorite Canadian fiction authors: Alice Munro, Margaret Atwood and Annie Proulx (well, partly Canadian).
On his bookshelf: philosophy, history, biography and autobiographies; "big idea books," he says. Also enjoys fiction featuring the American West and books about the Canadian Arctic.
Finds American impressionist painters most compelling, especially the work of Frederick Mulhaupt, and of course, any artworks by the Canadian "Group of Seven."
Big fan of the Daily Show and the Colbert Report.
Music-likes everything from Ian Tyson and Dwight Yoakam to Oscar Peterson and Lady Gaga. Paganini is a favorite classical composer (loves the madness).
Enjoys playing racquetball - please contact Gaetz if you are interested in a poor-to-mediocre opponent!
Editing two scholarly online journals keeps him off the streets far too many evenings.