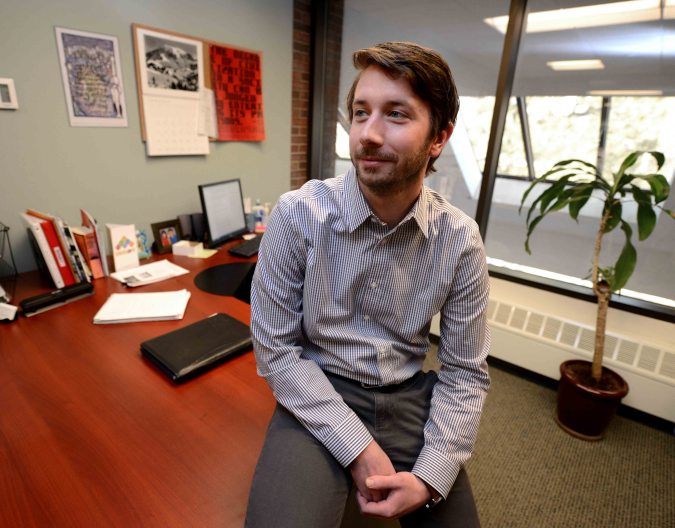 What does your job entail?
As the director of the Collaborative for Community Engagement (CCE), I work together with academic and student life areas of the college to integrate curricular and co-curricular learning with community-based work. I work with constituencies on campus and in the community to build relationships and develop new initiatives and partnerships that connect students and faculty to impactful community-based learning, research, and volunteer opportunities. I work with faculty to develop and support community-based learning and community-based research projects. I also oversee the Community Engaged Leadership (CEL) Certificate program.
There has been a lot of transition in the CCE in recent years, but we will be back up to full staffing soon, and there is a lot of energy around civic engagement and community partnerships on this campus. I hope to expand and build upon the things that we're doing well, and work to improve in areas where we have room to grow. My goal is to position Colorado College as a leader in the field of civic/community engagement.
You mention the Community Engaged Leadership (CEL) Certificate program. Can you tell us a bit more about that?
I'm incredibly excited to work with the CEL students. This cohort-based program, supported by an endowment from the Boettcher Foundation, is designed to assist students in developing their interests and skills in areas related to service, social justice, leadership, and public engagement. The group of roughly 12 students meets twice a block for lunch and discussion about collaborative projects involving staff, faculty, and community partners. At each meeting a different student is responsible for leading the discussion. This year we have an ongoing theme of incarceration and the criminal justice system. Seniors complete a CEL capstone project, which requires them to identify an issue of community concern, then design and organize a project geared toward solving the problem. Students are expected to develop critical reflection, creative problem solving, and multiple perspective-taking skills. CEL projects also should demonstrate responsible, sustained commitment to reciprocity and generate results that are accessible and useful to community partners.
Where did you work before CC and what were you doing?
I arrived at Colorado College in mid-November, a little more than one week after defending my Ph.D. dissertation in sociology at Boston College. My research looked at long-term service-learning volunteers, and the meaning these students attached to their work. I was particularly interested in whether these volunteers saw their work as connected to a sense of politics or larger social change efforts. I taught a number of courses at BC, including Diversity, Community, and Service, Inequality in America, Poverty in America, and Introductory Sociology. For the last two years, I also taught Education for Active Citizenship at the Jonathan M. Tisch College of Citizenship and Public Service at Tufts University.
What do you bring to this job?
I plan to bring my passion and excitement for community engagement work to this position. I also believe my deep knowledge of civic engagement/service learning and a variety of experiences within higher education will inform my work. I truly enjoy working collaboratively with others, and I am looking forward to working with the many other great people and offices at CC. I also hope my training as a sociologist adds an understanding of the relationships between personal experiences and social structures that can contribute to meaningful community-based opportunities.
What are some personal or professional experiences you've had either at CC or outside of it that play into your current role?
I've had a number of experiences over the years that inform my role as director of the Collaborative for Community Engagement. Before I began my graduate studies, I worked in the Office of Community-University Partnerships and Service-Learning at the University of Vermont. While I was at Boston College, I led a number of international service-immersion trips for students (to Bolivia and Nicaragua) and for faculty and staff (to Jamaica). I also organized and led workshops for students returning from other service-immersion trips to integrate their experiences into their academic and personal lives. A number of the courses I have taught have included a community-based learning component, and my research has given me tremendous insight into creating and maintaining opportunities for impactful community engagement. Overall, I've had many meaningful experiences in community-based work as a student, teacher, and professional, and I hope to provide these types of experiences, pathways, outlets, resources, and opportunities for students at CC to get involved in the community.
Who/what was the biggest influence on you?
I have been incredibly lucky to have many great people influence me during my academic and professional career. Diane Bates, one of my first sociology professors as an undergraduate, has been a constant mentor, role model, and friend. My advisors at Boston College - Lisa Dodson and Deb Piatelli - had a tremendous positive impact on my academic work and growth. I have worked with a number of wonderful colleagues at BC, The College of New Jersey, and Tufts University who have all shaped my work as well. And of course, the biggest influence on me, and my greatest source of strength, has been my incredibly supportive wife, Kelly.
What have you noticed about CC?
I have been struck by how supportive and welcoming everyone has been at CC. I have been able to jump right into exciting projects and conversations in my position, alongside wonderful, knowledgeable, understanding colleagues who have been willing to catch me up on what I need to know. I get the feeling that CC is an incredibly close-knit community, where I have already begun to feel at home.
Tell us a little about your background.
I grew up in Ewing, N.J., as the youngest of three children (two older sisters), to two wonderfully supportive parents who have always encouraged me to follow my passions and interests - even if those interests didn't always makes sense to them). I am a first-generation college student, and attended undergrad at The College of New Jersey. I bounced around several different majors until I found my calling in sociology, which I pursued through graduate school. My academic path has been a bit winding, but always came back to the broad idea of individuals engaging in their communities around matters about which they care deeply. I am also passionate about issues of poverty and inequality - particularly around education, housing, and hunger.
What do you like to do when not working?
My wife and I, along with our dog Ginny, a 10-month-old black lab mix, have enjoyed exploring the trails around our house and our new neighborhood in Manitou Springs. I like to stay active outdoors and look forward to all of the adventure and opportunities that Colorado has to offer. I enjoy reading, although I never seem to have enough time as I'd like to read for fun. I also love movies, particularly comedies or interesting documentaries, and can easily get sucked into a Netflix marathon.
Wild card: What is something people don't know about you?
I had a LOT of part-time jobs through high school and college. My first job, when I was 15, was at Sesame Place - a Sesame Street theme park outside Philadelphia. I also worked at Great Smoky Mountain National Park, the Philadelphia Zoo, a driving range, state senator's office, several restaurants, a church, retail clothing store, as a groundskeeper, an office assistant in the President's office at my college, a tutor, a major-events coordinator, and a resident assistant - and I'm sure I'm forgetting a few.