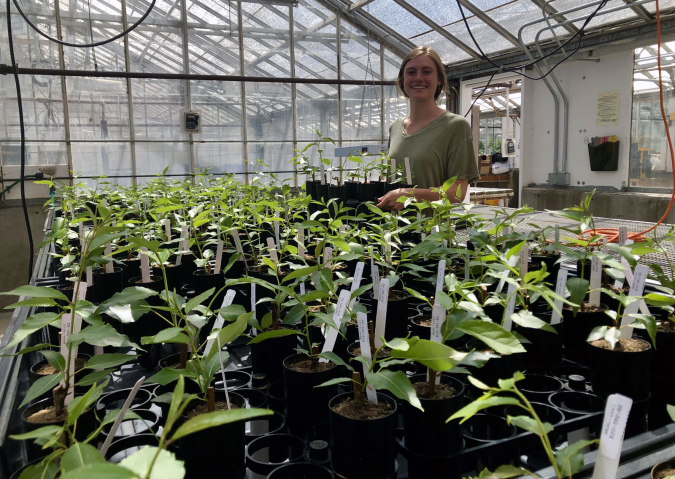 At the Telluride Mushroom Festival in 2016 Sabrina Heitmann '18 learned about innovative fungal solutions for world hunger, pest control, and disease being developed at Mushroom Mountain, a farm in Easley, South Carolina.

"I attended a lecture by the founder of Mushroom Mountain, who described how mushrooms could be used in all of these novel ways. It really piqued my interest because I had just decided that I wanted to major in Organismal Biology and Ecology, and I thought that this was a great way to begin my discovery of figuring out what I wanted to do career wise."

The Career Center provided guidance to Heitmann throughout her time at CC and beyond, starting with her internship application for Mushroom Mountain and concluding with her master's application.

Career Coach Gretchen Wardell helped Heitmann draw from previous experiences, such as leadership skills she had gained as a co-chair of EnAct (CC Students for Environmental Action). Heitmann not only got the internship at Mushroom Mountain, she also received $2,500 in funding from the Career Center. Every year, the Career Center provides one-time summer awards like these to approximately 80 CC students who have unpaid or underpaid internships.

"My time was split between cultivating mushrooms and conducting research at Mushroom Mountain. I learned how to grow and package mushrooms to be sold at farmer's markets and restaurants. I also created a research project proposal and partnered with Julia Kerrigan, an associate professor in mycology at Clemson University. I performed DNA extractions and PCR (polymerase chain reactions) to identify two fungal species that were previously not known," she says.

The exploratory study, aimed at determining the potential uses for the two species in bioremediation (breaking down environmental pollutants to clean up polluted sites), led to Heitmann's realization that she wanted to pursue research and took her to yet another step on her career path.

"When I was reading up on all of the literature during my internship, I came across this paper that talked about how fungi and bacteria could be implemented in agriculture to enhance food production. I reached out to the lead author and was able to get a research position in Posy Busby's lab at Oregon State University. Through CC, I was able to take two blocks off in 2017 to conduct my own independent project in the Busby Lab at OSU," she says.

Heitmann received additional funding for her work at the Busby Lab, including a $1,500 Keller Family Venture Grant and a $500 Organismal Biology and Ecology Department Hevey Family Fund grant. Her lab research involves endophytes - fungi and bacteria that live inside of plant tissue and have the potential to increase biomass and yield in plants, which could have implications for agricultural use.

Before Heitmann left campus for the lab, Wardell worked with her on networking skills. Then, when she came back to campus, together they composed several communications asking her supervisor at OSU if there was a possibility of her returning after graduation.

"We were both thrilled when the answer was 'yes,'" Wardell recalls.

Today, Heitmann is a faculty research assistant in the Busby Lab at OSU where she'll be a master's student this fall in the Botany and Plant Pathology Department.

Every year, the Career Center provides one-time summer awards of $2,500 to approximately 80 students to offset the costs of unpaid or underpaid internships. Gifts earmarked for the Career Center through Building on Originality: The Campaign for Colorado College can help the Career Center offer awards to more students or increase the amount of those awards.

Learn how Colorado College is pursuing its mission and achieving an even greater future through Building on the Block: The Colorado College Plan and how generous donors are bringing it to life through Building on Originality: The Campaign for Colorado College.