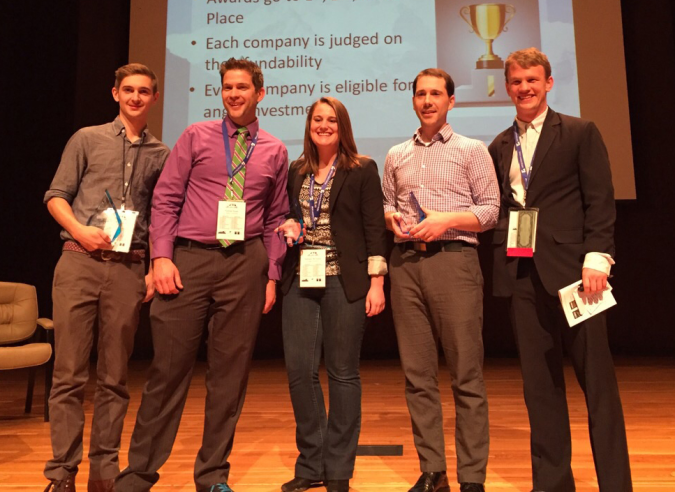 A Colorado College senior took first place at the Colorado University Startup Challenge, part of the programming for the Angel Capital Summit in Denver. The Angel Capital Summit is presented by the Rockies Venture Club, the longest-running angel investing group in the United States and the sixth-largest group in the country. It was the first time a Colorado College team had presented at the event.
Fredrik Lindseth '15 and iDro (formerly City Roots) beat teams from the University of Denver, University of Northern Colorado, U.S. Air Force Academy, Colorado State University, and University of Colorado-Boulder at the event held Monday, March 16, at the University of Denver. Also attending the event was Jeremy Harlam '15, who along with Lindseth co-founded City Roots.
"The 'doing well while doing good' messaging played competitively," said Patrick Bultema, director of CC's Innovation Institute. "I'm pleased because it provides an external validation point. Simply put, our student teams aren't just getting stronger based on internal opinions, but with some external validation."
Lindseth, an organismal ecology and evolutionary biology major from Cleveland, Ohio, is president of the Colorado Springs-based agricultural technology start up iDro, "which helps anyone, grow anything, from anywhere in the world, year round," according to their tagline.
iDro uses sophisticated plant science to monitor every aspect of a plant's life so the grower doesn't need to be a certified botanist in order to grow his own food. "All you have to do is tell our Smartphone app what you have just planted and the app will communicate with our database of more than 1,000 plant species to make sure the plants receive optimal growing conditions," Lindseth said. "Our app also allows you to connect to your system and share your plants' progress from anywhere in the world. Additionally, if you find yourself growing extra produce, you can organize a trade with other growers in your area or donate to a local shelter."
The Angel Capital Summit is an annual conference that connects investors with entrepreneurial companies seeking funding. The conference includes education benefiting both angel investors and entrepreneurs, networking segments, pitches with venture capitalist commentary, and venture bucks awards.

Lindseth also is president of the Colorado College Entrepreneurship Club, which holds events to help student entrepreneurs bring their ideas to life.