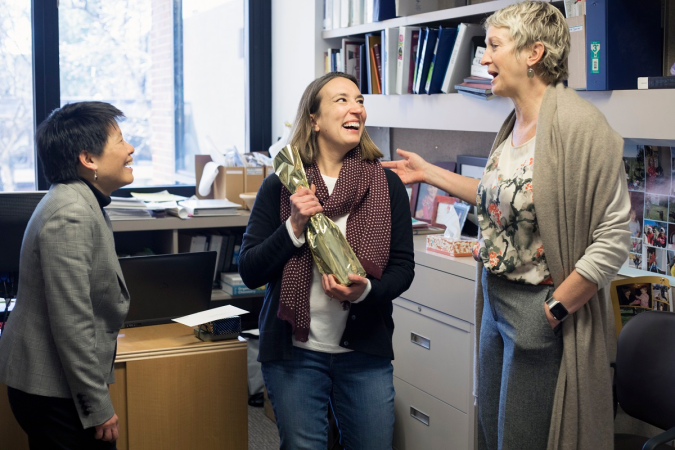 Four Colorado College faculty members, including two who are CC alumni, have been granted tenure and promotion to associate professor following the annual February meeting of the Board of Trustees. CC President Jill Tiefenthaler and Sandra Wong, dean of the college and dean of the faculty, visited each promoted faculty member, congratulating them and bestowing a gift. Additionally, the Board of Trustees awarded emeritus status to two professors.
Those granted tenure and promoted to associate professor, effective July 1, are:
Ryan Raul Bañagale, Assistant Professor of Music
Bañagale came to Colorado College in 2011 and teaches a range of courses on American music, including musical theatre, jazz, popular music, folk music, and media studies. He earned his Ph.D. from Harvard University in musicology and received the American Musicological Society's AMS-50 and Howard Mayer Brown fellowships while pursuing his graduate studies. An alumnus of Colorado College, Bañagale graduated cum laude in 2000 as a major in music and drama. His first book, "Arranging Gershwin: Rhapsody in Blue and the Creation of an American Icon" (Oxford University Press, 2014), focuses on Gershwin's iconic "Rhapsody in Blue" over the past 90 years. He has authored six articles in journals such as Jazz Perspectives and the Journal of the Society for American Music. Bañagale teaches the First-Year Experience courses Emotion and Meaning in Music and Creativity and Logic. He also teaches Introduction to Jazz, The Beatles: Then and Now, and Advanced Topics in Music: Stephen Sondheim. He currently serves on the editorial board of the "George Gershwin Critical Edition" and will be editing at least three separate arrangements of "Rhapsody in Blue." In 2016 he organized "It's Still Rock and Roll to Me: A Symposium on the Music and Lyrics of Billy Joel," held on the CC campus.


Amy Dounay, Assistant Professor of Chemistry
Dounay earned her bachelors of arts degree, magna cum laude, from Colorado College in 1996 and her Ph.D. in organic chemistry in 2001 from the University of Minnesota. In 2004 she completed a three-year National Institutes of Health Postdoctoral Fellowship where she studied applications of the intramolecular asymmetric Heck reaction toward the synthesis of alkaloid natural products. From 2004-12, Dounay was employed at Pfizer in the neurosciences medicinal chemistry division. Her current research focuses on the discovery of new medicines to treat African sleeping sickness, and her research program at Colorado College has been funded by the Research Corporation for Science Advancement Cottrell College Science Award, the Boettcher Foundation Webb-Waring Biomedical Research Award, and a National Science Foundation major research instrumentation grant. Dounay teaches Structures of Organic Molecules, Reactions of Organic Molecules, and Synthesis of Organic Molecules, and has supervised numerous research students, seven of whom are now enrolled in graduate programs.


Heidi R. Lewis, Assistant Professor of Feminist and Gender Studies
Lewis came to Colorado College in 2010 as a pre-doctoral Riley Scholar-in-Residence. After earning her B.S. in English Studies at Robert Morris University and her Ph.D. in American Studies from Purdue University in 2011, she joined the faculty as an assistant professor. She is the associate editor of The Feminist Wire and serves on the editorial board of The Feminist Wire Books: Connecting Feminisms, Race, and Social Justice. Her work has appeared in The Journal of Popular Culture and in an edited volume, The cultural Impact of Kanye West. She teaches the First-Year Experience course Introduction to Feminist and Gender Studies, a study abroad course titled Intersectionality Studies in Berlin, as well as Critical Media Studies, Critical Race Feminism, and Feminist Theory. As a testament to Lewis's impact on students, she won the Lloyd E. Worner Teacher of the year Award in 2012 and 2016. An engaging speaker, Lewis has given numerous interviews, addresses, invited talks, and presentations on campus and at other colleges and universities, at the Educating Children of Color Summit, and the Sankofa Lecture Series. She also is a frequent contributor to media outlets such as NPR news. Lewis currently serves as the director of CC's Feminist and Gender Studies program.


Matthew Whitehead, Assistant Professor of Mathematics and Computer Science
Whitehead joined the Colorado College faculty in 2010 as a visiting professor of computer science and became an assistant professor in 2012. He received his B.A. in mathematics from Willamette University in 2001 before going on to earn his M.S. in computer science from Washington State University in 2003 and his Ph.D. in computer science from Indiana University in 2010. Whitehead teaches Computer Science 1, Computer Science 2, and Computational Thinking. He devotes much of his time to helping students with advanced artificial intelligence projects; one example is his recent collaboration with two students titled "Deep Reinforcement Learning in a 3-D Blockworld Environment," a project that was presented at the International Joint Conference on Artificial Intelligence. Whitehead's research also includes "A Tool for Visualizing and Exploring Relationships Among Cancer-Related Patents," presented at the International Florida Artificial Intelligence Research Society in 2017, and "The Technological Core of the Apple: Using Artificial Neural Networks and Econometrics to Value Apple's Patents," presented at a research and development management conference, "From Science to Society: Innovation and Value Creation," in 2016. Whitehead has worked as a software engineer at several organizations, including Google, Inc. and Apple, Inc. He has won numerous awards and grants, including the Nvidia GPU Hardware Award in fall 2015.
The Board of Trustees also bestowed emeritus status on two professors. They are:
Douglas Monroy, Professor of History
Monroy received his B.A. (1971), M.A. (1972), and Ph.D. (1978) from the University of California, Los Angeles. He came to Colorado College in 1978 and currently serves as the chair of the History Department. Monroy's publications include numerous articles and three books. "Thrown Among Strangers: The Making of Mexican Culture in Frontier California" (University of California Press, 1990) was awarded the James Rawley Prize of the Organization of American Historians in 1991. "Rebirth: Mexican Los Angeles from the Great Migration to the Great Depression" also was published by the University of California Press in 1999 and "The Borders Within: Encounters Between Mexico and the U.S." was published by University of Arizona Press in 2008. Monroy has taught The Southwest Under Spain and Mexico, Contemporary US History, 1973-2003, The Emergence of Modern America, 1919-1942, and The Southwest Since the Mexican War. He served as director of the Hulbert Center for Southwest Studies at Colorado College. In 2004-05, Monroy became the Ray Allen Billington Distinguished Visiting Professor at the Huntington Library and Occidental College. In 2017 he presented The Mary L. Bierman Lecture on the History of the American West at Whitman College, with a talk titled "Nightmares and Dreams of Immigrants: How the New World Border Changes Who We Are and Where We Are."
Dennis Showalter, Professor of History
Showalter received his B.A. in 1963 from St. John's University, and his M.A. (1965) and Ph.D. (1969) from the University of Minnesota. After joining the CC faculty as an assistant professor of history in 1969, Showalter developed a prolific record of scholarship that includes multiple books, edited volumes, and well over 100 articles. His books include "The War of German Unification (Arnold, 2004), "Armor and Blood: Kursk, 1943 (Random House, 2013), "Patton and Rommel: Men of War in the Twentieth Century (Berkeley, 2005), and "Hitler's Panzers (Berkeley, 2009). In the classroom, Showalter taught World War II, War and Society since the Middle Ages, Terrorism, and Germany since 1918: Dissolution and Reunification. His honors include a festschrift, "Arms and the Man: Military History Essays in Honor of Dennis Showalter," the Lloyd E. Worner Teacher of the Year Award in 2011, and the Gresham Riley Achievement Award in 2005. Showalter has served as president and vice president of the Society for Military History, and received its Samuel Eliot Morison Achievement Award in 2005. He also has served on many editorial boards based on his expertise in military history.