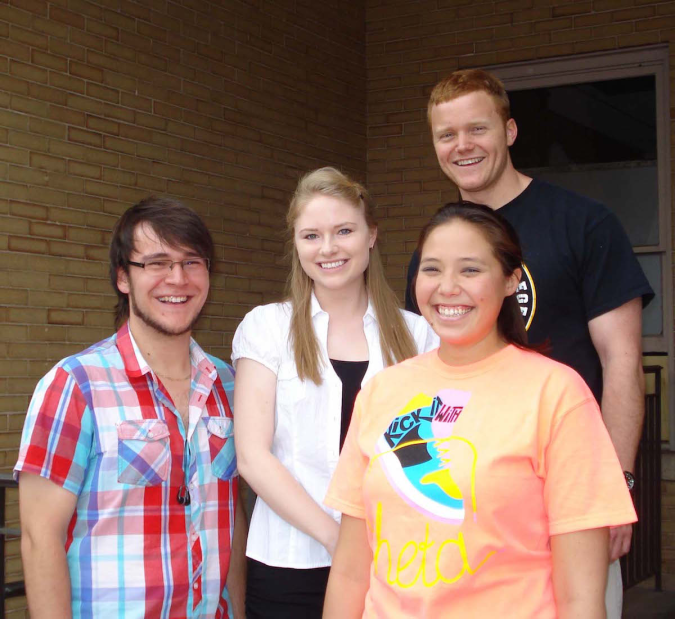 Four Colorado College students will be working as interns at the Olympic Games in London this summer. Emily Fukunaga '12, Andrew Rowe '12, Alexandra Bochkarev '12, and Michal Varga '14 will be living and working in London this summer as part of their internships at the 2012 Summer Olympic Games. The internships are a partnership between the Colorado College Career Center and the U.S. Olympic Committee, which is headquartered less than two miles from the college in Colorado Springs.
Fukunaga, an economics major from Honolulu, will work on team processing projects and assist with duties related to apparel distribution. Rowe, an English major from West Roxbury, Mass., will work with the transportation division and assist with operations planning, air and ground transportation, and logistics. Bochkarev, a Classics, history, and politics interdisciplinary major from Moscow, Russia, will work at both the Olympic Games and the Paralympic Games. Varga, a political science and media and film double major from Michalovce, Slovakia, will work with social media, the Internet, and provide technical video support for each sport. Some of the students already have begun their internships.
Colorado College began its partnership with the U.S. Olympic Committee in 2006, when two CC students served as interns at the Olympics in Torino, Italy. In 2008, three Chinese-speaking CC students were among the five U.S. Olympic Committee interns working as translators in Beijing for the Olympic Games. Additionally, two CC students served as interns for the 2010 Games in Vancouver.
The 2012 Summer Olympic Games will take place from July 27 through Aug.12, although the CC students will head to London well before the Games begin. The Paralympic Games take place from Aug. 29 through Sept. 9.