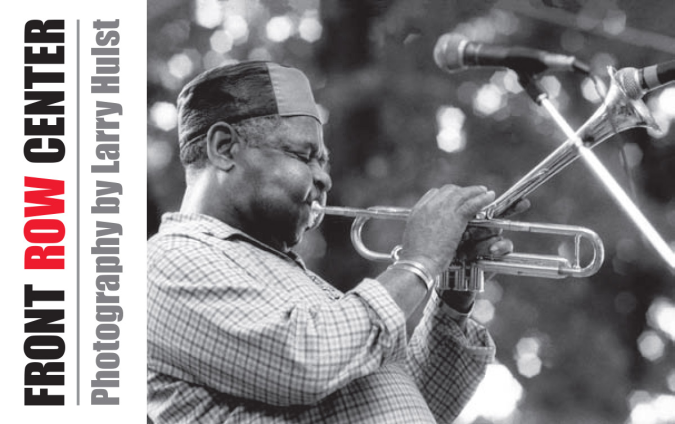 By Laurie Laker '12
At the heart of all great photography is opportunity, and luck. Being in the right place, at the right time, with the right equipment makes the world of difference. What counts more, however, is skill.
The immense skill of storied photographer Colorado Springs' own Larry Hulst, whose iconic work spans decades of music history, is on display at the Colorado Springs Fine Arts Center. The exhibition, titled "Front Row Center," runs until May 21, and features some of the most important figures in modern music. What Hulst does so masterfully is capture the energy of moments, those seconds you tell your friends about after the show, the sight of sonic history.
Collaborating with the Fine Arts Center on the exhibition catalog are many CC faculty, each focusing their lenses of expertise on Hulst's work, the artists captured, and their own passions for music. Assistant Professor of Music Ryan Bañagale focuses his energies on Paul McCartney and Willie Nelson; Assistant Professor of Theatre and Dance Idris Goodwin, also a spoken word and hip-hop artist, turns his attentions to Lauryn Hill, Muddy Waters, and Robbie Robertson. Associate Professor of English Steven Hayward, who edited the catalog, reflects on the live ferocity of guitarist Pete Townsend and the "supercool" of Michael Hutchence of INXS, while his department colleagues Natanya Pulley and Michael Sawyer capture the majesty of David Bowie, the honed (in)sanity of Iggy Pop, and the electric wizardry of Jimi Hendrix.
These historic artists, and many more, are caught in light and noise in Hulst's photographs. Their legacies, living or otherwise, are almost audible from the pictures.
A panel consisting of the CC faculty members who worked on the book, as well as special guests Joy Armstrong, Natanya Pulley, and Kirsten Turner, will discuss the exhibit and the photographs this coming First Monday on March 27, at 11:15 a.m., in the Kathryn Mohrman Theatre.