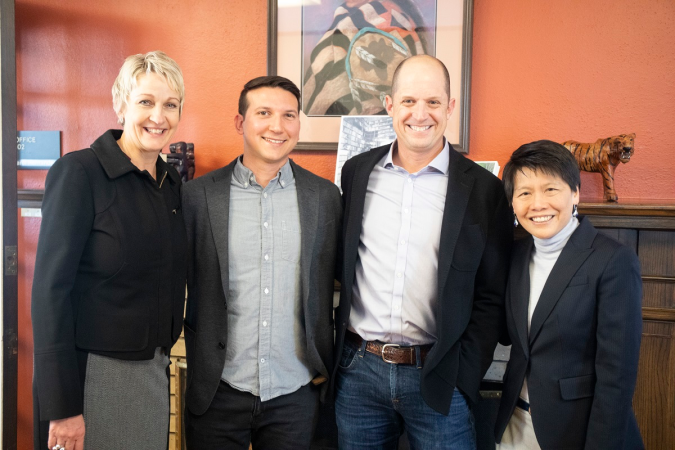 Five Colorado College faculty members, including an alumna, were approved by the Board of Trustees for tenure and promotion to associate professor following the board's annual February meeting. CC President Jill Tiefenthaler, Provost Alan Townsend, and Dean of the Faculty Sandra Wong visited each promoted faculty member, congratulating them and bestowing a gift. Additionally, at the same meeting the Board of Trustees awarded emeriti status to seven professors who are retiring at the end of the academic year.
Those awarded tenure and promoted, effective July 1, are:
Krista D. Fish '97, Assistant Professor of Anthropology
Fish graduated magna cum laude from Colorado College in 1997 with a degree in anthropology. She pursued graduate work in anthropology at the University Colorado-Boulder, and received her Ph.D. in 2010. Focusing on primate ecology and evolution, Fish has traveled to Bocas del Toro, Panama; the Beza Mahafaly Special Reserve in Madagascar; and the Loskop Dam Nature Reserve, Blouberg Nature Reserve, and Leshiba Wilderness Reserve in South Africa; to collect data for her research projects. In 2017 her article, "Assessing the role of exotic and ornamental plants in the ecology of gray mouse Lemurs in southeastern Madagascar," was published in Ethnoprimatology: A Practical Guide to Research on the Human-Nonhuman Primate Interface. She also has studied the habitats of free-ranging ring-tailed lemurs and semi free-ranging mongoose lemurs. Based on her areas of expertise, Fish established the first Institutional Animal Care and Use Committee at Colorado College. She teaches a range of courses on Human Evolution, Primate Behavior, Evolution, and Primatology. A regular contributor to the CC's First Year Experience program, her FYE courses include Human/Being, Primate Behavior Ecology and Conservation, and Exploring Human Ecology. Students praise her dedication to teaching and her efforts to excite and engage them in her classes. As one student wrote. "Krista epitomizes what it means to be an exceptional professor - her passion, creativity and enthusiasm make learning a true joy."

Santiago Ivan Guerra, Assistant Professor of Southwest Studies
After receiving his Ph.D. in anthropology from the University of Texas at Austin, Guerra began teaching courses at Colorado College in 2011 and became an assistant professor in 2013. His scholarship focuses on border drug wars and drug trafficking, and includes an article, "La Chota y Los Malfiosos: Mexican American Casualties on of the Border Drug War," which was published in Latino Studies. A second article, "Narcos and Narcs: Violence and the transformation of Drug Trafficking on the Texas-Mexico Border," will be published in an edited volume, "Violence and the U.S. - Mexican Borderlands." According to one external reviewer, Guerra's research "draws effectively form the tools of anthropology [and] provides a nuanced understanding of a sensationalized social problem that is often rendered in black and white." Guerra regularly teaches Ritual and Medicine of the Southwest, Borders and Borderlands, The Evolution of the Cannabis Industry, and The Drug War. Students remark that he is "welcoming to all students and perspectives, and provides a really safe space in the classroom to speak one's mind." Reflecting on her experience in his ritual and medicine course, one alumna observed, "I cannot express how valuable Professor Guerra's teaching was for me and the other students in that class, and how much the knowledge I gained influences me today."

Dennis McEnnerney, Associate Professor of Philosophy
McEnnerney came to Colorado College in 2004 as a visiting assistant professor of Philosophy. He earned his Ph.D. in political sciences from the University of California, Berkeley and his A.B. in political science and social thought from Stanford University. One of his articles, "Democracy as Voice: Political Liberalism and Critical Philosophy in Dialogue" was published in and edited volume, Political Theory: The State of the Discipline. He also has presented his papers, "Iris Young: The Normativity of Difference and its Dissonances" and "Using Sartre in Poststructuralist Critique: Shaping Discourses of Resistance" at conferences in Athens, Greece, and Canberra, Australia, respectively. McEnnerney is the vice president of the Colorado Chapter of Phi Beta Kappa. At Colorado College, he has served as a mentor to many students and as the Honor Council's faculty advisor. An active participant and organizer of faculty seminars, he regularly teaches History of Modern Philosophy, Contemporary Political Philosophy, French Philosophy in Context: 1930 to the Present, and Freedom and Authority, and Philosophy and Politics of Identity. Students are impressed by McEnnerney's breadth and depth of knowledge, his availability and support, and his ability to guide compelling discussions. He is consistently described as "highly organized," "fastidiously prepared," and "very good at valuing the student voice."


Dylan Sutton Nelson, Assistant Professor of Film and Media Studies
A producer, director, and writer of documentary films, Nelson began teaching at Colorado College in 2003 and became an assistant professor in 2013. She earned her MFA in creative writing from the University of Oregon and her B.S. with distinction in Biology from Yale University. Nelson is currently working on four projects: "Groomed," a feature documentary about child sexual assault; "Mississippi Messiah," which focuses on the civil rights icon and iconoclast James Meredith; "The Liegnitz Plot," about the mystery of a theft that occurred in Poland during the Holocaust; and "The Stolen," the story of children kidnapped during the 1970-80s Argentinian purges. Her documentaries, "Soundtrack for a Revolution" and "Nanking," have been short-listed for the Academy Award's Best Documentary Feature category. Nelson's honors include an Emmy nomination. three International Documentary Association Award nominations, and a Producers Guild of America nomination for Producer of the Year in Documentary Theatrical Motion Pictures. Nelson teaches Basic Filmmaking, Screenwriting, The Colorado Documentary Project, and On Location: Hollywood. One student described Nelson as a "rare writing-intensive professor on the creative side of the film major." Another wrote, "Her philosophy of 'writing as thinking,' prompted my most transcendent intellectual moments during my time at Colorado College."

Manya Whitaker, Assistant Professor of Education
Whitaker came to Colorado College in 2011 as a Riley Scholar-in-Residence after earning her Ph.D. in psychology from Vanderbilt University and her B.A. in psychology with honors from Dartmouth College. Her record of scholarship includes a book titled, "Learning from the inside-out: Child development and school choice," and a co-edited volume, "Counternarratives from Women of Color Academics: Bravery, Vulnerability and Resistance." She also published two co-authored articles, "Enhancing Preservice Teachers' Motivation to Teach Diverse Learners," and "The Development of the Dispositions for Culturally Responsive Pedagogy Scale," in Teaching and Teacher Education and Journal for Multicultural Education, respectively. These works represent a small selection of numerous articles and book chapters she has written on parent involvement in schools, urban charter schools, teacher identity development, and culturally responsive pedagogy. Whitaker has contributed to the Bridge Scholars program and served on the Curriculum Executive Committee at CC. She teaches Diversity and Equity in Education, Urban Education, Educational Research Methods, Educational Psychology, and Policy and Politics in Education. Students praise her high expectations and "contagious passion for education theory." As one student put it, "she made me care about education and teaching more than I ever thought I could have."
The Board of Trustees also awarded emeriti status to the following faculty members:
Susan Ashley, Dean Emerita and Professor Emerita of History; started in 1970
Peter Blasenheim, Professor Emeritus of History; started in 1973
Richard Hilt, Professor Emeritus of Physics; started in 1964
Robert Lee, Professor Emeritus of Political Science, started in 1971
Eric Leonard, Professor Emeritus of Geology; started in 1981
Theodore Lindeman '73 cum laude, Professor Emeritus of Chemistry; started in 1983
Andrew Manley, Associate Professor Emeritus of Theatre and Dance; started in 2003