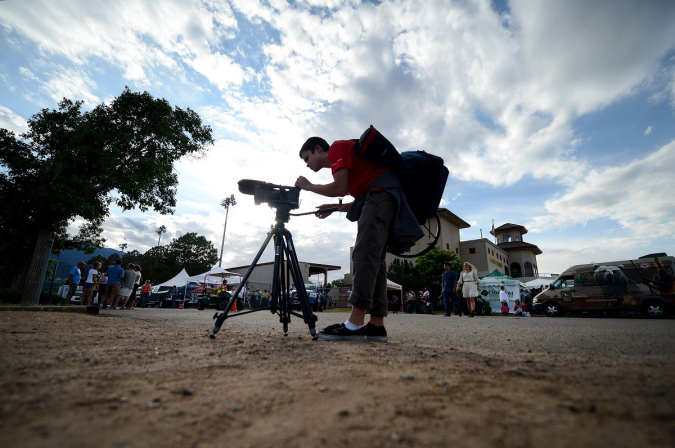 Colorado College's Film and Media Studies program is partnering with Rocky Mountain PBS to create "In Short," a student-centered, student-curated series that showcases student-produced films.
RMPBS originally created "In Short" to showcase films made in the Colorado Documentary Project, a Colorado College summer course taught by assistant professors of Film and Media Studies Dylan Nelson and Clay Haskell. The show's first season, last year, showcased five episodes of exclusively CC student documentary work. Film and Media Studies recently received a $2,500 grant from the Colorado Office of Film, Television, and Media Education to help support the program.
The long-term vision for the show is to highlight student films from across the state - and that's where Colorado College students come in. Working under the supervision of Nelson, Haskell, and Film and Media paraprofessional Sophie Capp '17, a team of CC student programmers will solicit works, select the strongest films, engage with filmmakers to make necessary changes, and finally, create thematic programs and deliver the shows - including technical, legal, and promotional materials - to the network. The students will receive professional producing credit for the season's shows.
"It's an opportunity to work professionally with your peers," says Capp. "You can really learn what goes into putting a television show together." The program was mentioned in a recent story in Seventeen titled "The Best Colleges for Every Major."
As supervising producer of the show, Capp has worked closely with the student team and with RMPBS executives, notably producer Kate Perdoni. The student programming team for season 2 includes Meron Afutu '18, Will Stockton '18, Lily Green '18, Kai Cintorino '18, Mary Sorich '18, and Ella Grossman '19.
The creation of the second season of "In Short" currently is underway, with 10 episodes in progress. Season 2, which will air region-wide beginning in May, will draw on the library of recently produced Colorado College student films, from fiction to experimental to documentary, as the student programmers develop a set of evaluative criteria and protocols, helping to define and identify "quality" when selecting films for the second season of the show, as well as ensuring a diversity of themes and filmic forms. Nelson says Season 2 will provide the team with the experience necessary to expand the program in future seasons. Beginning with Season 3 (2018-19), the team will solicit works from film students statewide.
The opportunities for Colorado College students are numerous. In addition to receiving producing credit, they learn to deliver films that meet PBS's technical specifications, develop professional relationships with other filmmakers, learn to impose and enforce deadlines, negotiate contracts, and navigate the tricky territory of recommending cuts or edits to a film - and how to proceed if the filmmaker objects. "I've been able to learn more the collaborative work that goes into preparing a show for broadcast," says Lily Green '19. As an aspiring filmmaker, this experience has helped me understand what it takes to make and distribute projects for wider audiences."
"It gives students a different viewpoint when looking at films-including their own," Nelson says. "I'm thrilled with the opportunity for our students to contribute to and grow our state's film culture."