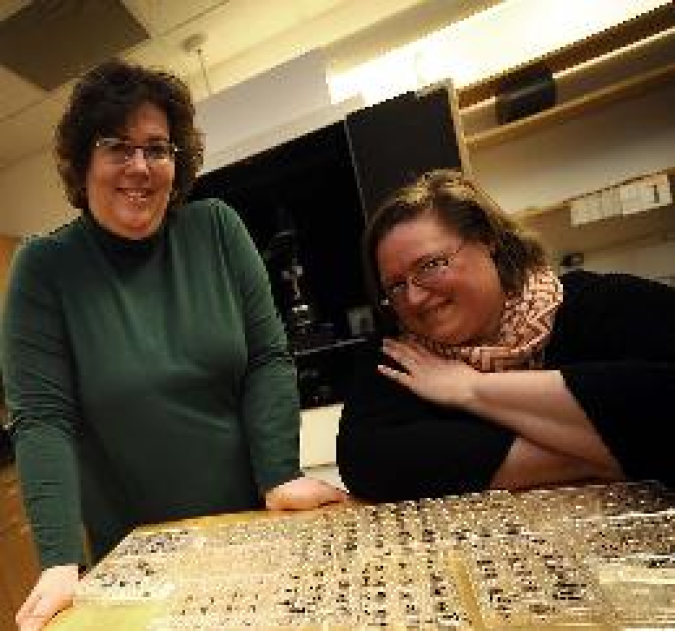 Phoebe Lostroh, associate professor of biology and co-director of Feminist and Gender Studies, and Kristine Lang, associate professor of physics, were awarded a $507,653 grant from the National Science Foundation to study how soil bacteria build a "machine" to bring in DNA from their environment.

Lostroh and Lang's ground-breaking research will involve numerous Colorado College physics and biology students over the four years of the grant, and they'll make extensive use of CC's atomic force microscope. About 40 first-year students will be involved in the research during a First Year Experience biophysics class co-taught by the professors. In addition, the NSF grant also will allow approximately 16 undergraduate students to conduct research with Lostroh and Lang for several months at a time, often during the summer.

It's rare for an undergraduate institution to do this kind of research. Lang and Lostroh piloted the research-based First Year Experience class, titled "Introduction to Microbiology."

"We told the NSF that teaching an undergraduate biophysics class is a great way to do the research," Lostroh said.

The students, working with the bacteria Acinetobacter baylyi, followed up on earlier research by Lostroh and Bruce A. Voyles, a Grinnell College biology professor. In that research, Voyles and Lostroh found that certain genes needed for the bacteria to import DNA turned on when the bacteria were starving. "We had no idea why," Lostroh said.

Under the NSF grant, the researchers will explore the genetic basis and mechanism that allows the bacteria to import outside DNA. There is no experimental evidence indicating which genes are required to build the DNA-importing machine, exactly how the machine works, and how this ability develops in a cell, Lostroh and Lang explained in their proposal.

"People have never seen this machine in an intact bacterium," Lostroh said in an interview earlier this year.

The students will use atomic force microscopy to try to make images of these machines on an intact cell - the first time this has ever been done. They also will count the number of machines and where they are located on each cell. The FYE students last year noted changes in the bacteria cells under starvation conditions, an "astounding discovery" that is important to the ongoing research, Lostroh said.

The project is also informed by the work of Margaret Daugherty, assistant professor of chemistry and biochemistry, and four of her students who studied a gene in the same bacteria. The students, Blake Reichert '13, Amber Dornbusch '11, Joshua Arguello '13, and Sarah Stanley '10, along with Lang, Lostroh, and Daugherty published a paper on their work in the Canadian Journal of Microbiology.

The NSF study will help researchers in the future to explore significant issues, such as how antibiotic-resistant genes move through populations of bacteria.