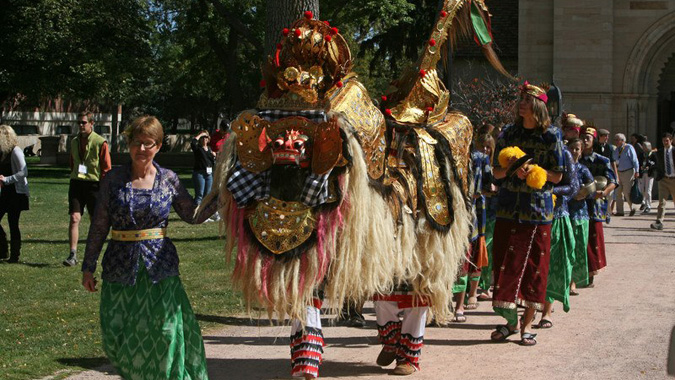 A day-long festival of Balinese performing arts celebrates the 20th anniversary of Indonesian music and dance at Colorado College. The event, featuring musicians and dancers from Bali, guest speakers, and six gamelan orchestras, highlights the fact that CC has one of the most diverse gamelan programs of any educational institution in the United States.

The festival, "Temu Wicara Bali: A Celebration of Balinese Performing Arts," will be held from 1:30-9:30 p.m., Saturday, May 4 in Packard Hall, and brings to campus scholars, musicians, and dancers who have worked with Music Professor Victoria Lindsay Levine and I Made Lasmawan, founders of the Indonesian performing arts program at CC.

Levine expects there to be a total of 120 participants at the event, coming from as far as the San Francisco Bay Area, Los Angeles, and the Indonesian embassies in New York and Chicago. Highlights include slide lectures on the culture of Balinese performing arts and two concerts, one in the afternoon and one in the evening, in which Gamelan Santi Suara will perform with CC's Bowed Piano Ensemble in a collaborative, cross-cultural piece.

In addition to the five regional gamelan orchestras, a gamelan comprised of Balinese musicians from throughout the United States will perform the grand finale. In all, 16 Balinese musicians and dancers will join forces with more than 100 American devotees of Balinese music and dance in what may be the largest event of this kind ever held in the United States.

"This is an extraordinary opportunity for our community to experience the colorful sights and sounds of Bali, a tiny island with a huge cultural presence in the arts world, through performances by some of the most influential Balinese dancers, musicians, and composers working today. It is also a chance to meet members of Colorado's substantial Indonesian community," Levine said. See the complete schedule of events.