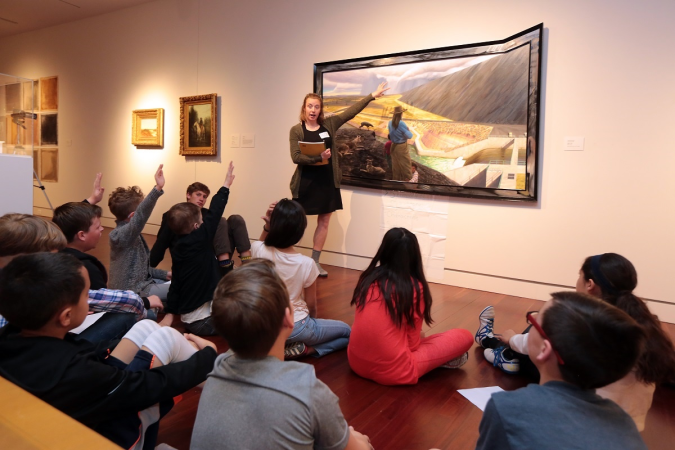 Beginning Jan. 2, 2018, the Colorado Springs Fine Arts Center at Colorado College will provide free school tours for pre-kindergarten through 12th-grade students. The new program will provide greater access for school groups and maximize learning opportunities.

"This initiative for creating greater access to the museum gives school groups the opportunity to integrate art and learning without financial obligation," says Kris Stanec, FAC Director of Museum Education.
Local district educators say the top two barriers to school tours are the cost of a tour per student and transportation costs. Thus, in addition to providing free school tours, the FAC also is offering subsidized funding for bus transportation for pre-kindergarten through 12th-grade public schools. Buses will be available on a first-come, first-served basis, with Title I schools receiving total reimbursement and non-Title I schools receiving up to 50 percent reimbursement of transportation costs, while funds are available.

This new initiative, available to school groups of all ages, sizes, and abilities, follows the well-received "Fourth Grade Passport to the Arts" program, launched in September. The FAC already has issued more than 500 "Passport to the Arts" memberships to fourth-grade families.

Both initiatives are a result of the FAC/CC strategic plan, "Excellence, Access, and Collaboration."

The goal is to reduce barriers to participation, making it possible for a significant number of area youth to have the opportunity to visit the museum. The FAC is providing more ways for students to understand the artwork through interactive experiences, discussion, and technology, as well as increasing the relevance of the collections for teachers by aligning visits to 21st-century skills and Common Core standards in addition to established standards.

According to a 2013 study by the Arts Education Partnership, "arts instruction and arts integrated instruction - lessons teaching skills and content of an art and non-art subject in tandem - engage students and increase learning and achievement. Youth arts education prepares students for success by boosting skills such as literacy, mathematics, critical thinking, collaboration and communication, and even community building and civic engagement."

Many underfunded school districts are scaling back arts education. At the same time, national cultural programs, like the National Endowment for the Arts and the National Endowment for the Humanities, are at risk of losing federal funding. As a result, the FAC is dedicated to fostering experimentation, growth, and a sense of shared community by ensuring that the arts are a part of the life experience of children in our community.